When my family and I went to Walt Disney World in 2013, I discovered that much had changed since my last trip in 1994. Many of the attractions that I had known and loved from the Magic Kingdom and EPCOT were long gone. The same was true of Disney's Hollywood Studios. Even the name of the park had changed! (I still call it Disney-MGM Studios sometimes.)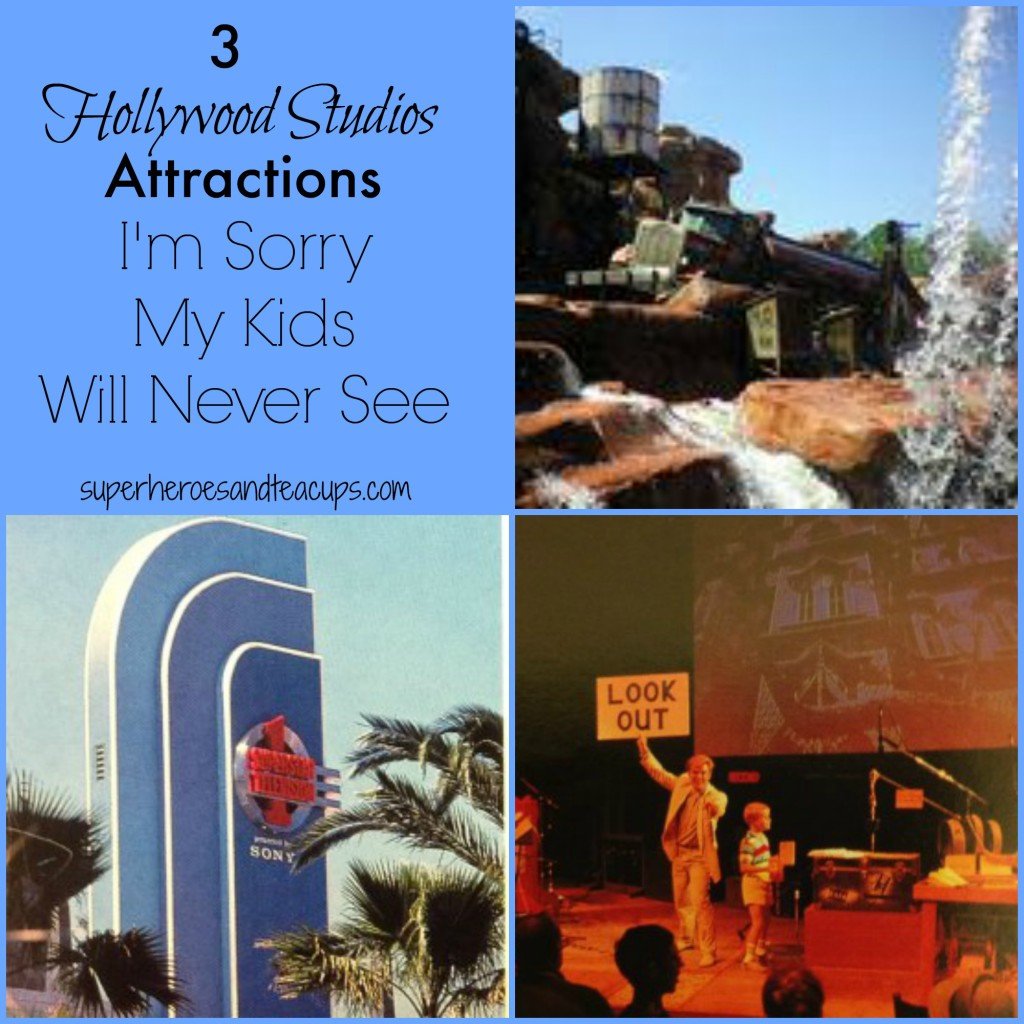 (See photo credit below)
Today, lets take a stroll down memory lane and visit 3 Hollywood Studios attractions that I'm sorry my kids will never see.
Catastrophe Canyon
Catastrophe Canyon was part of a much larger attraction known as the Studio Backlot Tour. The tour opened with the park in 1989 and originally featured both a walking tour and a tram tour, showcasing working studios, special effects demonstrations, old film props, and more. One portion of the tram tour took riders through a "movie set" known as Catastrophe Canyon. Without warning, the ground shook, the fuel truck exploded, and water came rushing at the riders. Then, just like that, it was all over. The tour underwent many changes over the years and finally closed for good in September of this year.
I remember Catastrophe Canyon being so exciting the first time I took the Studio Backlot Tour. I think my boys would have gotten a big kick out of all of the special effects.
Superstar Television
Superstar Television, also an original park attraction, used special effects to put guests into famous scenes from classic television shows, such as "I Love Lucy," "Cheers," and "Gilligan's Island." Of course, the results were typically hilarious. The attraction underwent a few minor changes and eventually closed in 1998.
Even though my boys wouldn't have recognized any of the television shows, I think they would have really enjoyed the slapstick comedy.
Monster Sound Show
Also opening on day one was Monster Sound Show. This attraction allowed guests to be Foley artists and add sound effects to a short film. The film starred Chevy Chase and Martin Short and was fast paced, so the results were always hysterical. Monster Sound Show became Sounds Dangerous in 1999 and finally closed for good in 2012.
Just like Superstar Television, Monster Sound Show was always very funny and I think my boys would have loved it.
I discovered it is tough to find good video of these three attractions, but fortunately MartinsVidsDotNet has a two-part video devoted to the history of the park.
Which Disney's Hollywood Studios attractions do you miss the most?
Catastrophe Canyon photo courtesy of Extinct Disney
Superstar Television and Monster Sound Show photos courtesy of Walt Dated World