Welcome to those of you joining me from A Disney Mom's Thoughts and those of you just hopping aboard! I am the final stop on our Magical Blogorail.
I'm thrilled to be joining the Magical Blogorail for the first time this month and it's a topic I have very strong feelings about…the best way to end a Disney vacation!
Every Disney trip, no matter how magical, must come to an end some time. Do you have anything special that you absolutely must do one last time before you go home?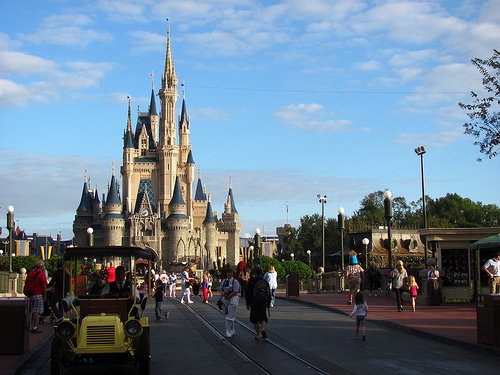 For me, no trip is complete without one last stroll down good old Main Street, USA in the Magic Kingdom. I absolutely love seeing the busy shops, all of the happy people, and finally…Cinderella Castle. Many Disney fans need to do this first on their trip to Walt Disney World, before anything else. But I need to finish my trip this way.
Spending one last evening in the Magic Kingdom is a must. In my opinion, Main Street at night is even more special. I personally love seeing everything all lit up, especially the beautiful Main Street train station. It's an experience all its own!
Leaving Walt Disney World is always very sad, but spending a few final moments on Main Street softens the blow for me. Well, just a little.
How do you like to spend your last moments at a Disney park?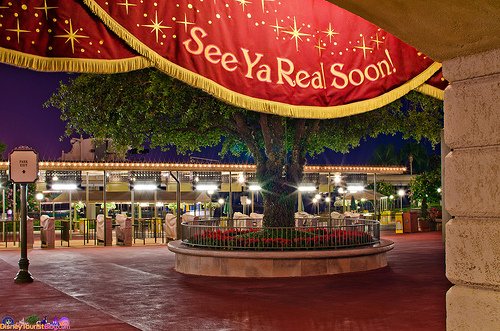 Thank you for joining Magical Blogorail Red this month. We will be back on October 2nd with an all new theme. Keep checking in with our blogs in between loops to keep up to date with our Disney info, photos, and stories. If you are looking for more Disney magic, you can make your way over to The Magical Blogorail website to see all our members and their blogs, as well as our previous loops.
Here is the map of our Magical Blogorail should you happen to have to make a stop along the way and want to reboard:
1st Stop – Magical Mouse Schoolhouse – Park Hopping
2nd Stop – The Disney Point – Riding the Monorail
3rd Stop – Frontierland Station – Character Breakfasts
4th Stop – A Disney Mom's Thoughts –  Shopping and Taking Photos
Final Stop – Superheroes and Teacups – Strolling Down Main Street, USA (YOU ARE HERE!)
Photo credit: Roller Coaster Philosophy / Foter / Creative Commons Attribution 2.0 Generic (CC BY 2.0)
photo credit: Express Monorail via photopin cc
photo credit: Tom.Bricker via photopin cc