Must Read Books for Fans of Walt Disney
Disney fans aren't just fans of the parks and the movies. They are also fans of the man himself…Walt Disney. The driving force behind Disneyland and Walt Disney World. Like most Disney fans, I can't get enough of the stories of his life and legacy. Fortunately there are more than enough books for fans of Walt Disney to keep us all busy!
There are so many books that I couldn't possible list all of them. But here is a brief look at some of the best for the next time you are in the mood for a fun Disney book.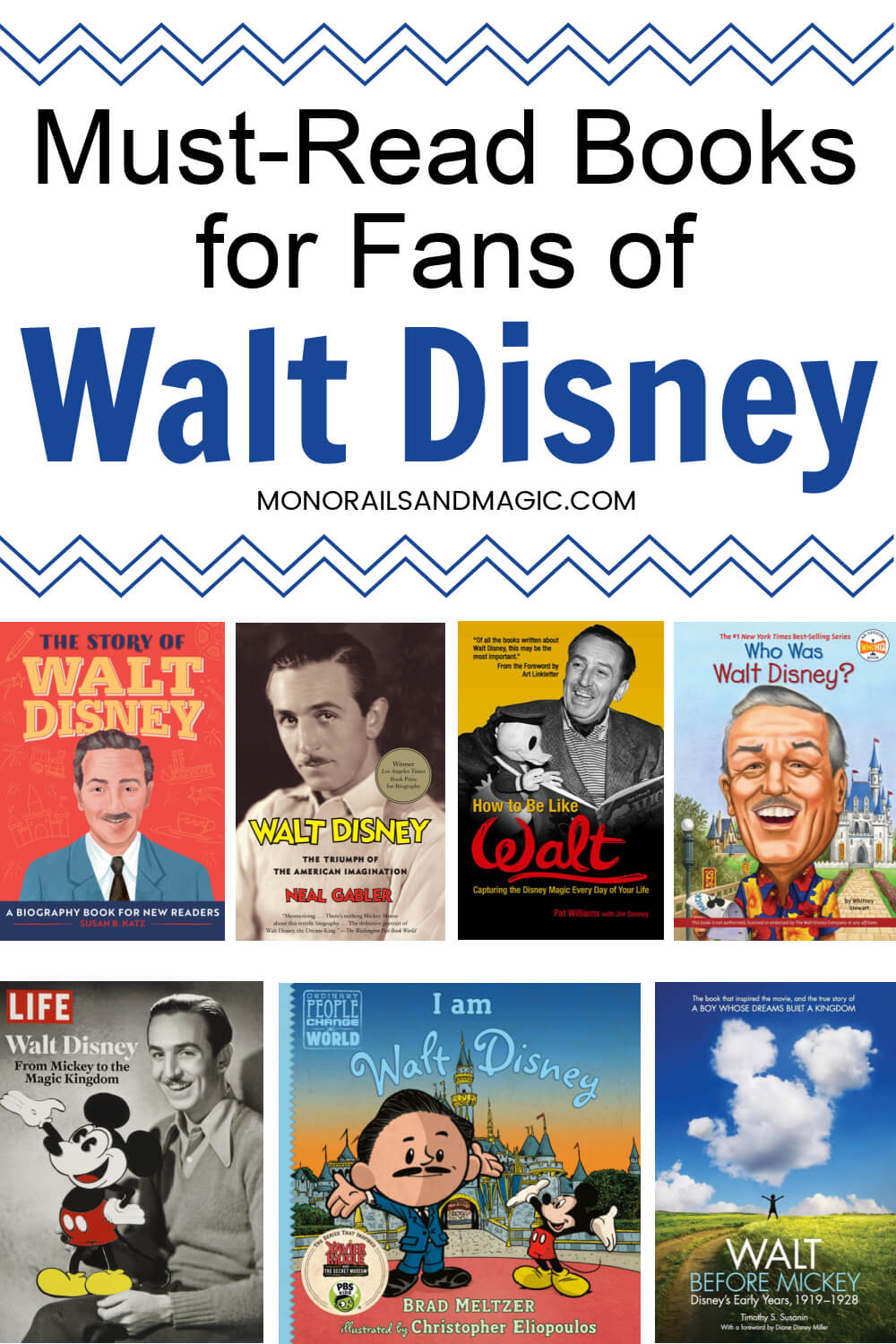 ***This post includes affiliate links. Please see my disclosure policy for more information.***
Books for Fans of Walt Disney
Disney fans have so many books to choose from. Books about the parks, the movies, the imagineers, the animators, and more. But these books about the man himself are must-reads for fans of all ages.
Walt Disney Books for Grown Ups
LIFE Walt Disney: From Mickey to the Magic Kingdom by LIFE Special
LIFE Magazine has followed Walt Disney's career since the very beginning and in this all-new special edition, LIFE revisits both the man and the magic. It is a beautiful tribute to Walt Disney.
Quotable Walt Disney by Dave Smith
Fans of Walt Disney love to quote him. This amazing resource contains over 250 pages filled with Walt Disney quotes, from the well-known to the obscure, on just about every topic.
Walt Disney: The Triumph of the American Imagination by Neal Gabler
This award winning biography is full of facts and details about Walt Disney's life. Author Neal Gabler shows us how, over the course of two decades, Disney revolutionized the entertainment industry.
Walt Disney: An American Original by Bob Thomas
Originally published in 1976, this biography is a fascinating and inspirational work that captures the spirit of Walt Disney and stands the test of time with its rare collection of photographs.
The Revised Vault of Walt: Unofficial Disney Stories Never Told by Jim Korkis
Filled with stories your probably haven't heard, former Disney cast member and master storyteller Jim Korkis weaves his home-spun, entertaining tales, from the early years of Walt Disney to the present.
Walt Before Mickey: Disney's Early Years, 1919-1928 by Timothy Susanin
In this biography, readers get a closer look at Disney's earliest days as an animator. We learn about his years working in a variety of venues and studios, refining what would become known as the Disney style.
How to Be Like Walt: Capturing the Disney Magic Every Day of Your Life by Pat Williams
If you are looking for a positive, light-hearted look at the life of Walt Disney, be sure to check out this honest but positive look at the man behind the myth.
Walt Disney Books for Kids
Who Was Walt Disney? by Whitney Stewart
The "Who Was?" series of books offers easy to read, yet thorough, biographies for children. With black-and-white illustrations throughout, this biography reveals the man behind the magic.
I Am Walt Disney by Brad Meltzer
Young children can take a closer look at the life of Walt Disney in this picture book that focuses on the traits that made him great.
The Story of Walt Disney: A Biography Book for New Readers by Susan B. Katz
This brand new chapter book for children explores how Walt went from being a young boy growing up in the Midwest to a creative genius.