Ultimate Guide to Disney and Pixar Animated Movies
If you think about your childhood, Disney animated movies were there. Now with Disney+, we can share MANY of those classic movies with our children and have some Disney fun at home. There so many movies that it's impossible to remember them all. To help all of us out, here is an ultimate guide to Disney and Pixar animated movies. There is even a free printable for you!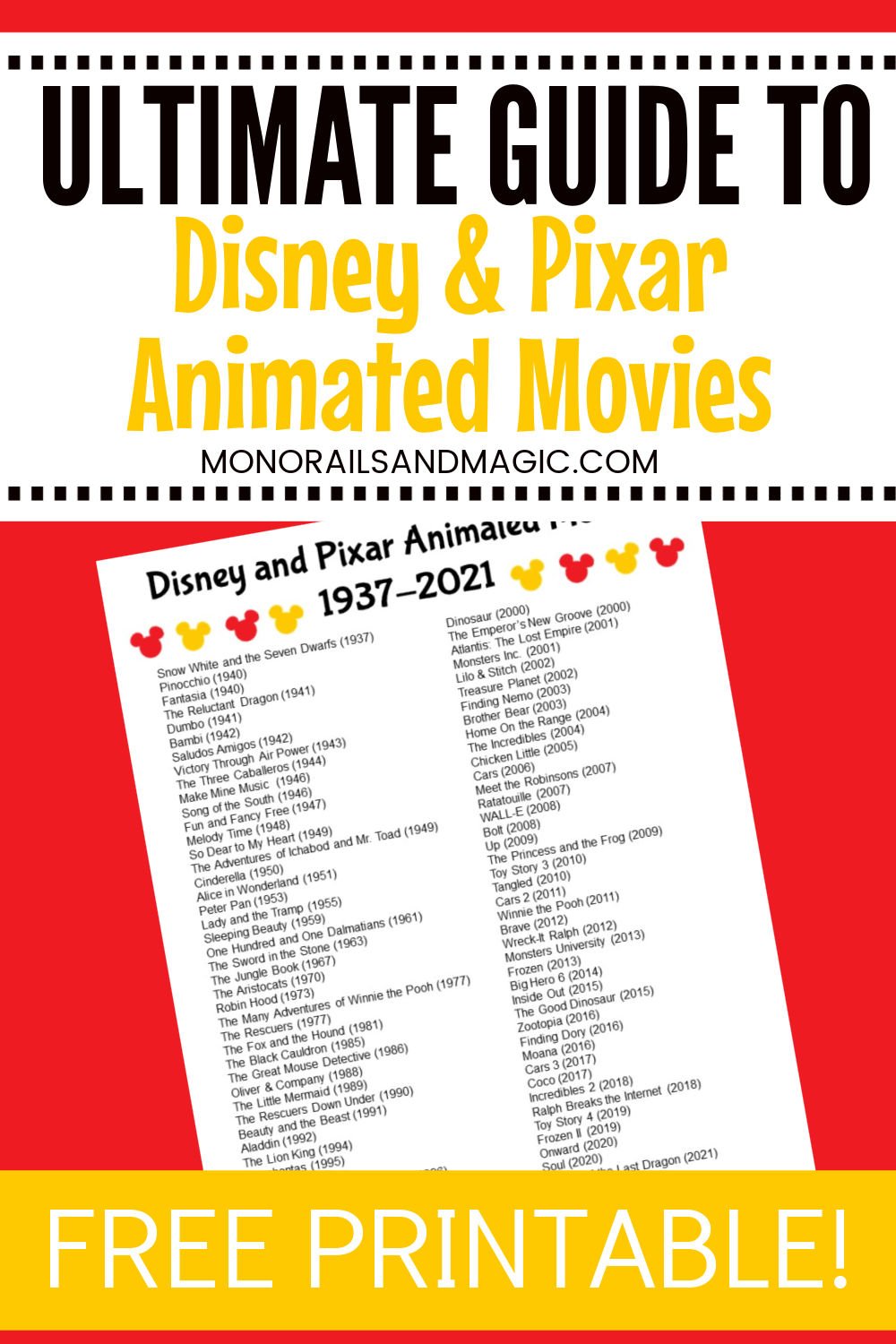 ***This post includes affiliate links. Please see my disclosure policy for more information.***
Guide to Disney and Pixar Animated Movies
Because many of these movies are new to the next generation of kids, parents may be wondering if their children would enjoy them. It can be difficult to remember the details about a movie we haven't seen in 20 or 30 years!
List of Disney and Pixar Animated Movies
This list includes every animated movie released from Walt Disney Animation Studios and Pixar Animation Studios. I have also included the movies that are a combination of live action and animation. I did not include any of the direct to home video movies.
1937 – 1949
The 1940s featured several movies that were a combination of animation of live action and animation. While not as popular as the traditional totally animated movies, they are still an important part of Disney movie history.
Pinocchio (1940)
Fantasia (1940)
The Reluctant Dragon (1941)
Dumbo (1941)
Bambi (1942)
Saludos Amigos (1942)
Victory Through Air Power (1943)
The Three Caballeros (1944)
Make Mine Music (1946)
Song of the South (1946) – Even though this movie is no longer available, I included it to keep the list complete.
Fun and Fancy Free (1947)
Melody Time (1948)
So Dear to My Heart (1949)
The Adventures of Ichabod and Mr. Toad (1949)
1950 – 1959
The 1950s gave us several animated movies that most fans consider to be classics.
Cinderella (1950)
Alice in Wonderland (1951)
Peter Pan (1953)
Lady and the Tramp (1955)
Sleeping Beauty (1959)
1960 – 1969
The next three decades included many changes behind the scenes at the Walt Disney Animation Studios and, unfortunately, very few movies.
One Hundred and One Dalmatians (1961)
The Sword in the Stone (1963)
The Jungle Book (1967)
1970 – 1979
The Aristocats (1970)
Robin Hood (1973)
The Many Adventures of Winnie the Pooh (1977)
The Rescuers (1977)
1980 – 1989
The Fox and the Hound (1981)
The Black Cauldron (1985)
The Great Mouse Detective (1986)
Oliver & Company (1988)
The Little Mermaid (1989)
1990 – 1999
The 1990s gave us what is known as the "Disney Renaissance." It was the return of movies based on well-known tales and it made Disney animated movies commercially successful again. The decade also introduced us to the incredibly popular Pixar Animation Studios.
The Rescuers Down Under (1990)
Beauty and the Beast (1991)
Aladdin (1992)
The Lion King (1994)
Pocahontas (1995)
The Hunchback of Notre Dame (1996)
Hercules (1997)
Mulan (1998)
A Bug's Life (1998)
Tarzan (1999)
2000 – 2009
The past two decades have given us more animated movies than any other time in Disney history. Sometimes even more than one a year.
Fantasia (2000)
Dinosaur (2000)
The Emperor's New Groove (2000)
Atlantis: The Lost Empire (2001)
Monsters Inc. (2001)
Lilo & Stitch (2002)
Treasure Planet (2002)
Finding Nemo (2003)
Brother Bear (2003)
Home On the Range (2004)
The Incredibles (2004)
Chicken Little (2005)
Cars (2006)
Meet the Robinsons (2007)
Ratatouille (2007)
WALL-E (2008)
Bolt (2008)
Up (2009)
The Princess and the Frog (2009)
2010 – 2019
Tangled (2010)
Cars 2 (2011)
Winnie the Pooh (2011)
Brave (2012)
Wreck-It Ralph (2012)
Monsters University (2013)
Frozen (2013)
Big Hero 6 (2014)
Inside Out (2015)
The Good Dinosaur (2015)
Zootopia (2016)
Finding Dory (2016)
Moana (2016)
Cars 3 (2017)
Coco (2017)
Incredibles 2 (2018)
Ralph Breaks the Internet (2018)
Frozen II (2019)
2020 – 2021
Onward (2020)
Soul (2020)
Raya and the Last Dragon (2021)
Luca (2021)
Encanto (2021)
Grab Your Free Printable Movie List
Fill out the form below and you'll receive an email giving you instant access to this free printable.
Don't worry. If you are already a subscriber, filling out the form won't affect your subscription, but you will receive the link to get the printable.
Please remember that, by downloading this printable, you are agreeing to abide by my Terms of Use. Thank you for visiting!