As we continue along on our journey through all of the Disney animated movies, we now come to Pinocchio. This classic features some of the most memorable characters and songs ever made. These family resources for Disney's Pinocchio will help you as you introduce (or reintroduce) this movie to your child.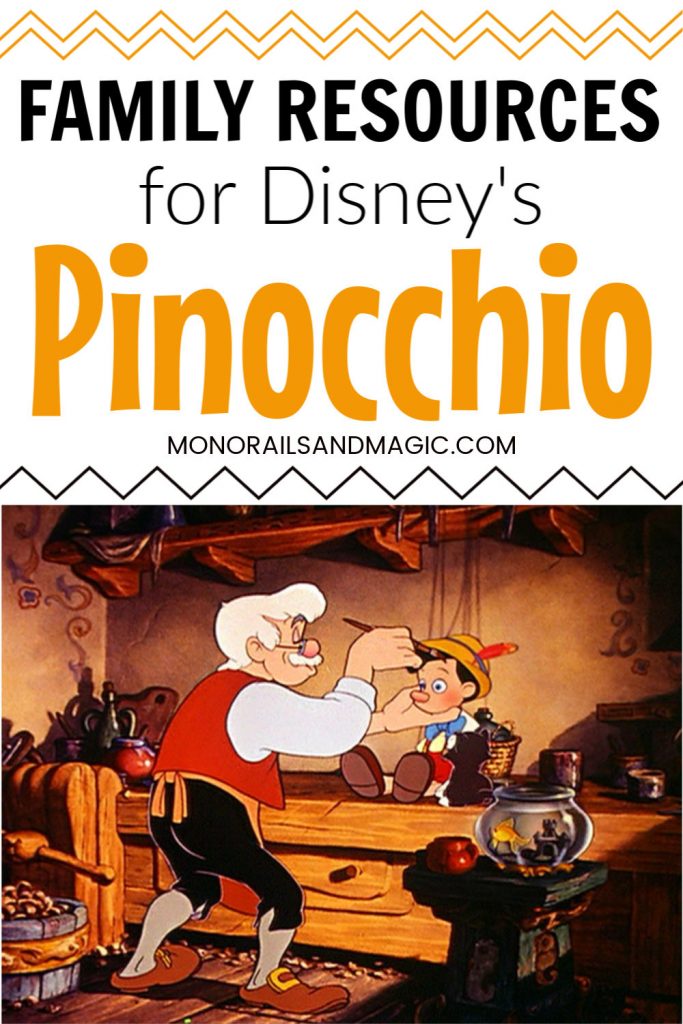 Family Resources for Disney's Pinocchio
If you are introducing your child to the movie for the first time or planning a family movie night, these resources will help you out.
General Movie Info
Year Released: 1940
Running Time: 88 minutes
Rating: G
Music: Soundtrack currently available on CD
How to Watch Disney's Pinocchio
Disney's Pinocchio is currently still available for purchase in DVD and Blu-Ray format, as well as on Google Play, Prime Video, iTunes, YouTube paid movies, and Vudu.
The classic is currently included as part of Disney+.
What Parents Need to Know
If it has been a while since you watched Pinocchio, you may not remember that there are a few scenes that young or sensitive children may find scary. For example:
Several characters are shown smoking and/or drinking alcohol
Pinocchio is kidnapped and threatened
Children are shown being destructive
Pinocchio nearly drowns
The word "jackass" is used a few times, but in reference to an actual donkey
Books to Go Along with Pinocchio
Unlike some other fairy tales, there are not many books that feature the characters from Pinocchio. You can, however, find several versions of the classic fairy tale. Just click on the titles to find out more about the book.
Picture Books
Pinocchio (Little Golden Book) by Steffi Fletcher
Pinocchio (Storytime Lap Books) by Giuseppe Di Lernia
Disney Pinocchio (Disney Die-Cut Classics) by Studio Fun International
Pinocchio (Fairytale Classics) by Anna Bowles
Pinocchio (Brighter Child Keepsake Stories) by Carol Ottolenghi
Chapter Books
Pinocchio (Puffin Classics) by Carlo Collodi
Pinocchio (Sterling Unabridged Classic) by Carlo Collodi
---
More Resources to Go Along with Disney's Pinocchio
Disney's Pinocchio lends itself to lots of fun recipes, crafts, and more. I just wish there were more to be found.
Recipes
DIY Pinocchio Cookies from Handmade Charlotte
Pinocchio Inspired Cupcakes from One Momma Saving Money
Crafts
Pinocchio Party Craft from My Crazy Good Life
Printables
Printable Blue Fairy Paper Doll from SKGaleana
Pinocchio Word Search Free Printable
Pinocchio Memory Game Free Printable
---
Where Can You Find Pinocchio in the Parks?
The characters from Pinocchio can be found throughout several of the Disney Parks.
Pinocchio's Daring Journey (Disneyland-California, Tokyo, and Paris)
This classic dark ride features scenes and characters from the movie.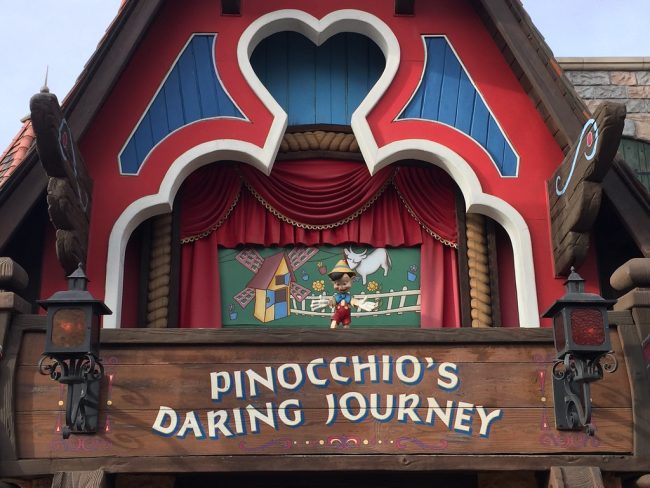 Storybook Land Canal Boats (Disneyland)
The Storybook Land Canal Boats take guests on a ride through miniature settings from several Disney movies. You can see Gepetto's wood shop.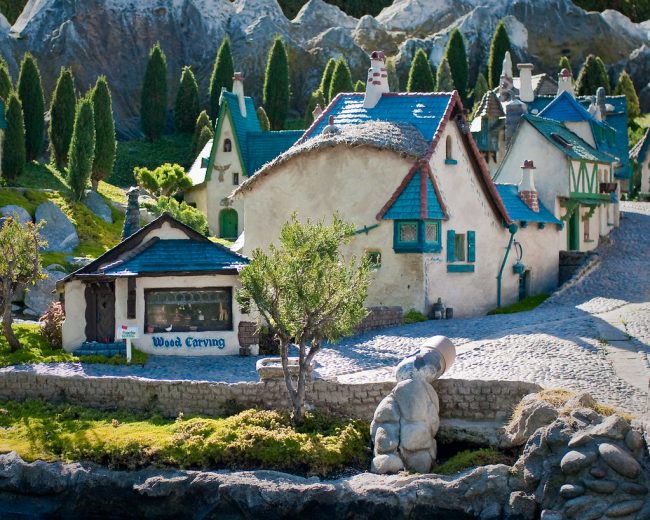 Festival of Fantasy Parade (Magic Kingdom)
This daily parade features Pinocchio on a whale float and Jiminy Cricket walking along the route.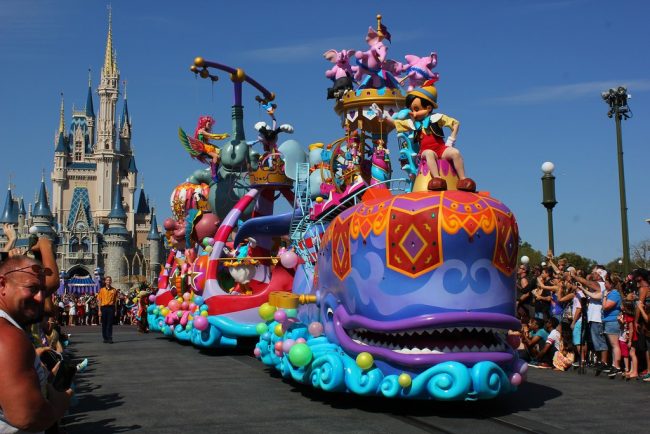 Fantasmic! (Hollywood Studios and Disneyland)
Both Pinocchio and Geppetto appear on the boat during Fantasmic! at both parks.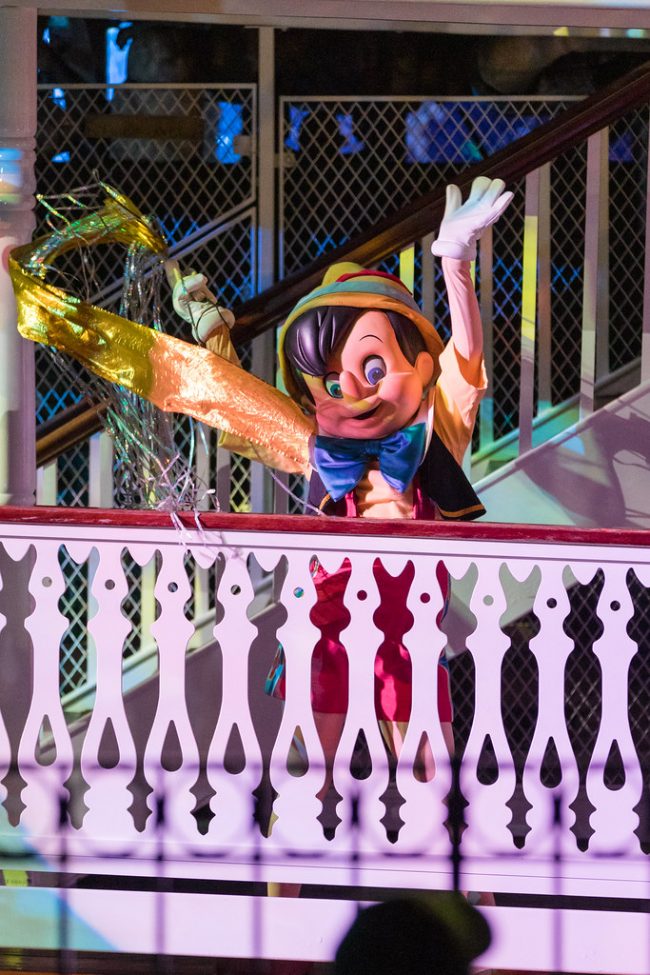 Dreaming Up Parade (Tokyo Disneyland)
Pinocchio and Geppetto both appear on a float in the latest daytime parade in Tokyo.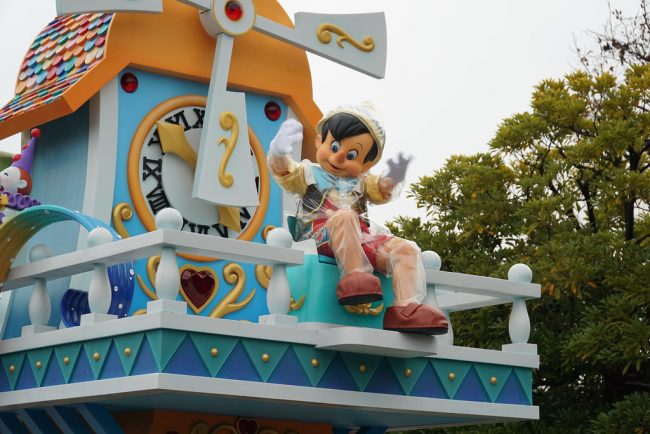 Dreamlights Electrical Parade (Tokyo Disneyland)
Tokyo Disneyland is fortunate enough to still have an electrical parade and it features the Blue Fairy.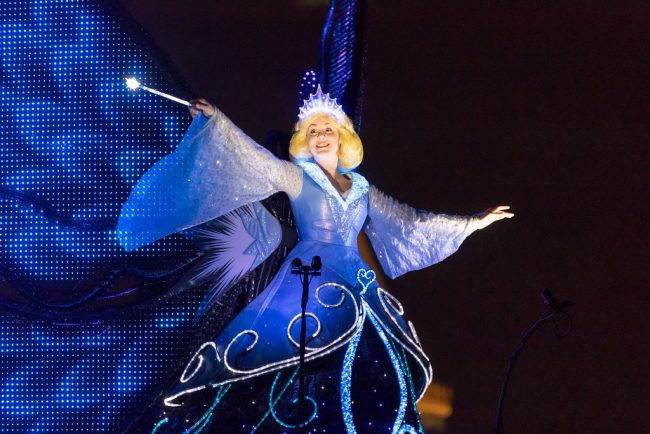 Pinocchio Village Haus (Magic Kingdom)
Fantasyland in the Magic Kingdom has a Pinocchio themed quick service location, right next to It's a Small World. Check out this dining review from Cory Meets World.
---