Epcot International Flower and Garden Festival Guide
It is time for the Epcot International Flower & Garden Festival! Gorgeous topiaries, amazing gardens, yummy food, and fun music will be taking over the park once again. There is so much to consider if you will be visiting Epcot during a festival, so I have an Epcot International Flower and Garden Festival guide to help you out.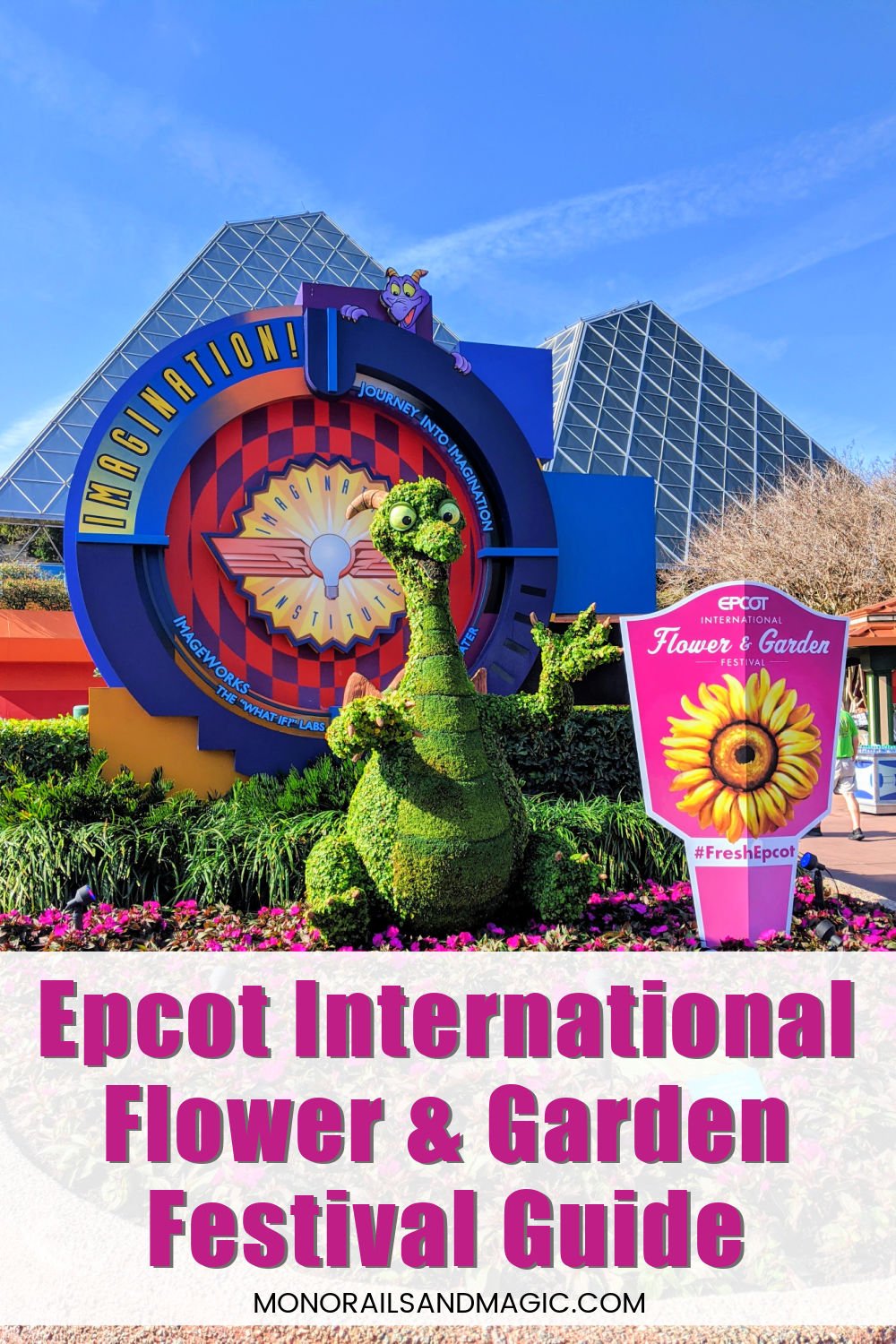 ***This post includes affiliate links. Please see my disclosure policy for more information.***
Epcot International Flower and Garden Festival Guide
This festival is amazing, but it can be overwhelming even for veterans. To help you out, I have answered some of the most common questions and provided you with some information about this year's festival…complete with menus!
What is the Epcot International Flower & Garden Festival?
This amazing festival began in 1994 and is now in it's 30th year. The festival features food and drink items from around the world as well as from local farms. Guests visit food booths, known as Outdoor Kitchens, that are set up throughout the park. The portions are reasonably small, so you can try lots of different options!
When Is the Epcot International Flower & Garden Festival?
The 2023 Epcot International Flower & Garden Festival runs from March 1 to July 5, 2022. That is 127 days of yummy goodness!
Over 20 Outdoor Kitchens and special food locations will offer new delights, as well as returning festival favorites.
Where Are the Outdoor Kitchens?
The Outdoor Kitchens can be found all throughout Epcot. They can be found in World Showcase, World Discovery, World Nature, and World Celebration.
If a kitchen is for a country that is part of World Showcase, it will be located near that country. You can find the location of all of the others listed with the menus.
Be sure to pick up a Festival Passport to help you find your way!
Do I Need to Bring Anything with Me?
The only thing you really need to bring is your appetite and some form of payment. If you are feeling particularly environmentally conscious, you could bring a set of travel utensils and/or straws. And some die hard festival goers bring their own tray!
---
Epcot International Flower & Garden Festival Menus
BRUNCHCOT (Near Test Track presented by Chevrolet)
Food:
Avocado Toast with marinated toybox tomatoes on toasted ciabatta (Plant-based) (Garden Graze)
Shrimp and Grits: Blackened shrimp and cheddar cheese grits with brown gravy and sweet corn salsa
Lox Benedict on Everything Focaccia with everything-spiced cream cheese, shallots, crispy capers, and hollandaise (New)
Fried Cinnamon Roll Bites with cream cheese frosting and candied bacon
Beverages:
Froot Loops Shake (non-alcoholic)
Peach Bellini (New)
Joffrey's Coffee Cold Brew Cocktail with milk, Kahlúa Rum and Coffee Liqueur, and vanilla vodka
The Honey Bee-stro Hosted by National Honey Board (Near Port of Entry)
Food:
Chicken and Waffles: Crispy honey-brined chicken and honey sweet cornbread waffle with whipped honey butter and spicy honey (New)
Pollinator Flatbread with honey-whipped mascarpone, honey caramelized onions, blueberry gastrique, prosciutto, honey-whipped goat cheese, arugula, honey vinaigrette, and bee pollen (New)
Local Wildflower Honey-Mascarpone Cheesecake with orange blossom honey whipped cream, whipped honey, crystalized honey, honeycomb, dehydrated honey, and fennel pollen meringue kisses
Beverages:
Honey-Peach Cobbler Freeze with streusel (non-alcoholic)
B. Nektar New Wave Lemonade Mead
Florida Orange Groves Winery Orange Blossom Honey Wine
Honey-Peach Cobbler Freeze with blueberry vodka and streusel
The Citrus Blossom (The Odyssey)
Food:
Orange Sesame Tempura Shrimp with orange chile sauce (New)
Citrus Baked Brie with preserved lemon marmalade, limoncello-macerated blueberries, and spiced marcona almonds (New)
Lemon Meringue Pie: Lemon curd, lemon mousse, and toasted meringue (New)
Beverages:
Orange-Lemon Smoothie in a Souvenir Orange Bird Sipper Cup (non-alcoholic)
UFO Beer Co. Citrus Hazy Wheat Beer
81Bay Brewing Co. Citrus Honey Cream Ale
Parish Brewing Co. Drive Thru: Orange Octane Imperial Sour
Bella Strada Spritz (New)
Orange Sunshine Wine Slushy
Beer Flight
Novelty:
Orange Bird Bundle featuring "The Orange Bird" Little Golden Book and souvenir Orange Bird Sipper Cup
Refreshment Port (Near Canada)
Food:
Shrimp Scampi Poutine with cheese curds, lemon-garlic cheese fondue, spinach, and artichokes (New)
Soft-serve Waffle Cone: Peanut butter, jelly, or swirl
Beverages:
Mighty Swell Purple Magic Spiked Seltzer (New)
Villa Maria Earth Garden Sauvignon Blanc (New)
Frozen Mojito with Boyd & Blair Rum (New)
Pineapple Promenade (Near Port of Entry)
Food:
Spicy Hot Dog with pineapple chutney and plantain chips
DOLE Whip (Plant-based)
Beverages:
Frozen Desert Violet Lemonade (non-alcoholic)
DOLE Whip with Fanta (non-alcoholic)
3 Daughters Brewing Tropical Hefe
BrewDog Hazy Jane IPA
Urban Artifact Teak Tropical American Fruit Tart
Playalinda Brewing Company Violet Lemonade Ale
Florida Orange Groves Winery Sparkling Pineapple Wine
DOLE Whip topped with Sōmrus Mango Cream Liqueur
Pineapple Beer Flight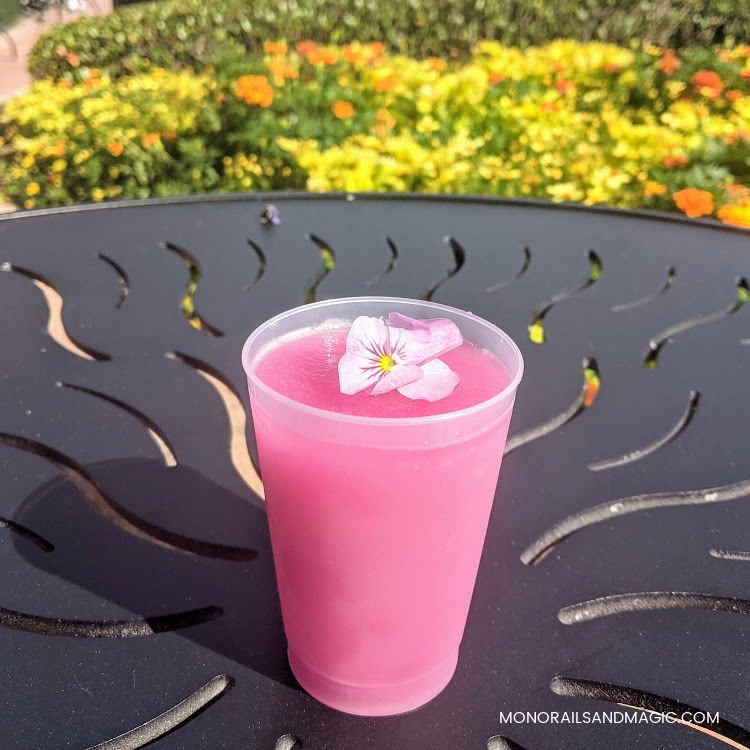 Trowel & Trellis Hosted by Impossible™ (Near Port of Entry)
Food:
Boneless IMPOSSIBLE Korean Short Rib with cilantro-lime rice, Danmuji slaw, and kimchee mayonnaise (Plant-based) (Garden Graze)
IMPOSSIBLE Lumpia with Thai sweet chili sauce (New) (Plant-based) (Garden Graze)
Chocolate Cake with black currant ganache, mixed berry compote, and chocolate ice cream (New) (Plant-based) (Garden Graze)
Beverages:
Twinings Iced Green Tea with Cranberry and Lime (non-alcoholic)
Parish Brewing Co. Bloom Hazy IPA
J. Lohr Wildflower Valdiguié
Twinings Iced Green Tea with cranberry and lime with Hangar 1 Makrut Vodka served in a mason jar
Refreshment Outpost
Food:
Pineapple Skewer with tajin seasoning (Gluten/ Wheat Friendly) (Plant-based)
Tangerine soft-serve
Ice Cream Float: Tangerine soft-serve and cream soda
Beverages:
Lavender Martini: Boyd & Blair Potato Vodka with Lavender and Lemon
Lexington Brewing Tangerine Cream Ale
Blake's Hard Cider Co. Grand Cherry Hard Cider (New)
Southern Tier Brewing Co. Juice Jolt IPA (New)
Bauernmarkt: Farmer's Market (Germany)
Food:
Potato Pancakes with house-made applesauce (Gluten/ Wheat Friendly) (Plant-based) (Garden Graze)
Potato Pancake with caramelized ham, onions, and herb sour cream (Gluten/ Wheat Friendly)
Toasted Pretzel Bread topped with black forest ham and melted Gruyère cheese
Warm Cheese Strudel with mixed berries
Beverages:
Bitburger Premium Pils
Stiegl Brewery Radler Raspberry
Flensburger Dunkel
Apfelschaumwein: Sparkling wine and apple liqueur
Beer Flight
Magnolia Terrace (American Adventure)
Food:
Muffuletta Panini with ham, salami, mortadella, provolone, and Swiss with olive salad (New)
Spicy Chicken Gumbo with Andouille sausage and BEN'S ORIGINAL Long Grain & Wild Rice
Crawfish Pie (New)
Bananas Foster Bread Pudding (New)
Beverages:
Bayou Cocktail: Spiced rum, coconut rum, fruit punch, and Minute Maid orange juice
Central 28 Beer Co. Pretty Things Ale (New)
Wicked Weed Brewing Day Light American Light Ale
Parish Brewing Co. Ghost in the Machine Double IPA
Beer Flight
Tangierine Café: Flavors of the Medina (Morocco)
Food:
Hummus Trio: Traditional hummus, red beet and black garlic hummus, and avocado-herb hummus with Moroccan bread and crispy papadam (New) (Plant-based) (Garden Graze)
Orange Blossom-Saffron Cake (New)
Beverages:
Pomegranate Mimosa
Keel Farms Strawberry Elderflower Hard Cider
Bold Rock Tangerine Hard Cider
3 Daughters Brewing Pomegranate Hard Cider
Cider Flight
La Isla Fresca (Between Morocco and France)
Food:
Braised Oxtail with pigeon pea rice (New)
Sugar Cane Shrimp Skewer with BEN'S ORIGINAL Long Grain White Rice, mango salsa, and coconut-lime sauce
Coconut Tres Leches: Vanilla cake soaked in oat milk, almond milk, and coconut milk with toasted coconut (Plant-based) (Garden Graze)
Beverages:
Tropical Breeze: Minute Maid Lemonade, grapefruit, and simple syrup (non-alcoholic)
Islamorada Beer Company Coconut Key Lime Ale
Florida Orange Groves Winery Tropical Perception White Sangria
Tropical Breeze with Don Q Límon Rum
EPCOT Farmers Feast (Near Test Track presented by Chevrolet)
Food:
Early Bloom Menu (available March 1 through April 8)
Chilled Potato and Leek Soup "Vichyssoise" with bacon lardons, potato croutons, chive oil, and crispy leeks (Gluten/ Wheat Friendly)
Char-grilled Bison Ribeye with creamy leek fondue, red wine butter sauce, and whipped red wine goat cheese
Spice Cake with cream cheese icing and candied pecans and parsnip (New)
Hibiscus Lemonade Cocktail featuring Islamorada Brewery & Distillery Hibiscus Gin
Springtime Menu (available April 9 through May 20)
Grilled Vegetable Bruschetta with marinated peppers, zucchini, squash, artichokes, goat cheese, and balsamic glaze on grilled ciabatta
Grilled Swordfish with crushed fingerling potatoes, pea and mint purée, grilled asparagus, and lemon beurre Blanc (New)
Strawberry Rhubarb Upside-down Cake with crème fraîche whipped cream
Summer Solstice Menu (available May 20 through July 5)
Tomato and Red Onion Panzanella with avocado, burrata cheese, and fresh basil
Barbecued Seared Pork Tenderloin with summer succotash, herb butter, and grapefruit vinaigrette (Gluten/ Wheat Friendly)
Sweet Corn Crème Brûlée with corn biscotti (New)
Beverages (available throughout the Festival):
Collective Arts Brewing Blueberry & Elderberry Sparkling Hard Tea (New)
Ghost Mary: Translucent Bloody Mary with Boyd & Blair Cucumber Vodka, tomato water, horseradish, celery salt, and a hint of pepper (New)
Northern Bloom (Canada)
Food:
Seared Scallops with French green beans, butter potatoes, brown butter vinaigrette, and Nueske's Applewood-smoked Bacon (Gluten/ Wheat Friendly)
Beef Tenderloin Tips, mushroom bordelaise sauce, and whipped potatoes with garden vegetables
Chocolate Maple Whisky Cake (New)
Beverages:
Maple Popcorn Shake (non-alcoholic)
Collective Arts Brewing Honey Lager
Glutenberg Blonde Ale, Montreal
81Bay Brewing Co. Apricot with Maple Syrup
Maple Popcorn Shake with Tap 357 Maple Rye Whisky
Beer Flight
Jardin de Fiestas (Mexico)
Food:
Quesadilla de Flor de Calabaza: House-made masa tortillas with squash blossoms, bacon, onion, zucchini, and cheese (New) (Gluten/ Wheat Friendly)
Taco Vampiro: Barbacoa Beef in a Corn Tortilla with crispy grilled monterey jack cheese, salsa ranchera, and esquites (Gluten/ Wheat Friendly)
Beverages:
Mala Hierba Margarita: Centinela Tequila Reposado, elderflower-chamomile tea, Abasolo Corn Whiskey, and UNA Flower-infused Vodka with a chile salt rim (New)
Cristal Margarita: 100% Agave Tequila Blanco, Ilegal Mezcal Joven, clarified lemon juice, and orange liqueur in a souvenir cup (New)
Craft Mexican Lager
Lotus House (China)
Food:
Spicy Mala Chicken Skewer with creamy peanut sauce
House-made Cheesy Crab Wontons
Pan-fried Vegetable Dumplings
Beverages:
Classic Bubble Milk Tea (Non-alcoholic)
Cherry Blossom Pilsner Draft Beer
Kung Fu Master: Tito's Vodka, Triple Sec, mango, orange juice, and soda water
Tang Dynasty: Jose Cuervo Especial Tequila Gold, light rum, strawberry, piña colada mix, soda water, and white boba pearls
Tropical Moon: Smirnoff Vodka, Triple Sec, passion fruit, soda water and white boba pearls (New)
Primavera Kitchen (Italy)
Food:
Caesar con Gamberett: Baby gem lettuce, shrimp, Caesar dressing, and crispy bread crumble (New)
Tortelloni Primavera: Spinach tortelloni, sweet butter, pancetta, corn, peas, and fava beans (New)
Budino alle Nocciole: Chocolate-hazelnut pudding with cookie crumble (New)
Beverages:
Peroni Pilsner
Prosecco
Moscato
Italian Sangria red or white
Italian Margarita with limoncello and tequila
Hanami (Japan)
Food:
Frushi: Strawberry, pineapple, and cantaloupe wrapped in sweet rice and pink soy wrap served with whipped cream, berry sauce, and toasted coconut
Hanami Sushi: Assorted Nigiri sushi with lemon-cured salmon, soy-marinated tuna, and cured mackerel (New)
Creamy Shrimp Udon: Udon soup with shrimp and spring vegetables (New)
Beverages:
Sakura Cherry Blossom Pilsner (New)
Hakushika Hana Kohaku Plum Sake: Junmai Ginjo blended with Japanese plum (New)
Nigori Dragon Fruit Sake Cocktail (New)
Fleur de Lys (France)
Food:
Croissant au Fromage de Chèvre, Herbes et Ail Rôtie: Croissant with goat cheese, herbs, and roasted garlic
Daube de Boeuf à la Provençal, Compote de Tomate au Romarin Gnocchi à la Niçoise: Provençal-style braised beef, rosemary tomato, and niçoise gnocchi (New)
Tarte Chocolat Mogador: Chocolate tart with Valrhona single origin chocolate brownie, walnuts, and raspberry coulis served warm (New)
Beignet Caramélisé, Fourré Crème Vanille, Glacé au Caramel Fleur de Sel: Caramelized beignet filled with vanilla cream and glazed with caramel fleur de sel
Beverages:
Kronenbourg Blanc 1664 Draft Beer
VeRy Raspberry: Rosé wine with natural raspberry flavor
Kir àla Poire: French sparkling wine with Monin desert pear (New)
La Vie en Rose Frozen Slush: Vodka, Grey Goose L'Orange Vodka, St. Germain Elderflower Liqueur, and white and red cranberry juices
The Land Cart hosted by AdventHealth
Food:
Fruit and Cheese Plate: Grapes, strawberries, cheddar, and Mini Babybel Snack Cheese
Vegetable Plate: Broccoli, carrot sticks, and tomatoes with dip (Plant-based)
Pretzels with Hummus Dip (Plant-based)
Cookies 'n "Cream" Chocolate Mousse Cup (Plant-based) (Garden Graze)
Sunshine Seasons
Beverage:
Strawberry-mango Slushy (non-alcoholic)
Connections Café & Eatery
Food:
Orange Bird Liege Waffle (New)
Beverage:
Flower Drop Cocktail: St. Germaine Liqueur, Tito's Handmade Vodka, Elderflower and Lemonade
Funnel Cake Stand
Food:
Banana Split Funnel Cake: Funnel Cake topped with Banana-Chocolate Chip Ice Cream, Whipped Cream, Diced Strawberries, and a Maraschino Cherry drizzled with Chocolate Syrup (New)
Joffrey's Coffee & Tea Company
World Discovery (Near Mission: SPACE) – Exotic Lemon Tea: A refreshing mix of Frozen Lemon and Iced Tea featuring Exotic Berry notes (Spirited option available featuring Grey Goose Vodka) (New)
Near Canada – Melonade: A tangy blend of Frozen Lemon with a burst of watermelon (Spirited option available featuring Grey Goose Vodka) (New)
World Showcase (Near Disney Traders) – Orange Cream Cold Brew: A smooth blend of French Roast Cold Brew with flavors of orange and vanilla topped with a splash of cream, whipped cream, and coconut shavings (Spirited option available featuring Kahlúa Rum and Coffee Liqueur) (New)
The American Adventure – Key Lime Cold Brew: A zesty blend of French Roast Cold Brew with flavors of Key lime and white chocolate topped with a splash of cream, whipped cream, and graham cracker crumbs (Spirited option available featuring Kahlúa Rum and Coffee Liqueur) (New)
---
Topiaries and Gardens
What sets the Flower & Garden Festival apart from the other Epcot festivals are the topiaries and gardens. Be sure to take our Epcot International Flower and Garden Festival checklist with you if you are hoping to find them all.
Topiaries
Every spring, Disney horticulturists create magnificent topiary sculptures of animals and classic Disney characters.
Here are this year's displays and where you can find them:
Encanto, Including Mirabel, Antonio, Isabela and Luisa – NEW! (Main Entrance)
Mickey Mouse, Minnie Mouse, Chip, Dale and Pluto (Bridge to World Showcase and World Celebration)
Woody, Bo Peep and Her Sheep (World Nature Near The Land Pavilion)
Goofy (World Showcase)
Tiana – NEW! (The American Adventure Pavilion)
Buzz Lightyear (World Discovery Near Mission: SPACE)
Donald and Daisy (Community Garden Near Connections Café in World Celebration)
Figment (Near Imagination!)
The Three Caballeros – Jose, Donald and Panchito (Mexico Pavilion)
Anna and Elsa (Norway Pavilion)
Troll (Norway Pavilion)
Dragon (Japan Pavilion Near Torii Gate)
Pandas (China Pavilion)
Simba and Friends – Rafiki, Simba, Mufasa and Sarabi (Between Imagination! and The Land Pavilion)
Pumbaa and Timon (Between Imagination! and The Land Pavilion)
Snow White and the Seven Dwarfs (Germany Pavilion)
Lady and the Tramp (Italy Pavilion)
Beauty and the Beast (France Pavilion)
Lumiere and Cogsworth (France Pavilion)
Kermit the Frog and Miss Piggy (Between France and Morocco Pavilions)
Peter Pan, Captain Hook and Tick Tock Croc (Between United Kingdom and Canada Pavilions)
Winnie the Pooh and Friends – Rabbit, Eeyore, Piglet and Tigger (United Kingdom Pavilion)
Tinker Bell's Fairy House Garden (United Kingdom Pavilion)
Bambi and Friends (Near Imagination! and Refreshment Port)
Geese (Canada Pavilion)
Butterflies (Main Entrance, Scentsy Garden, Butterfly House and World Showcase)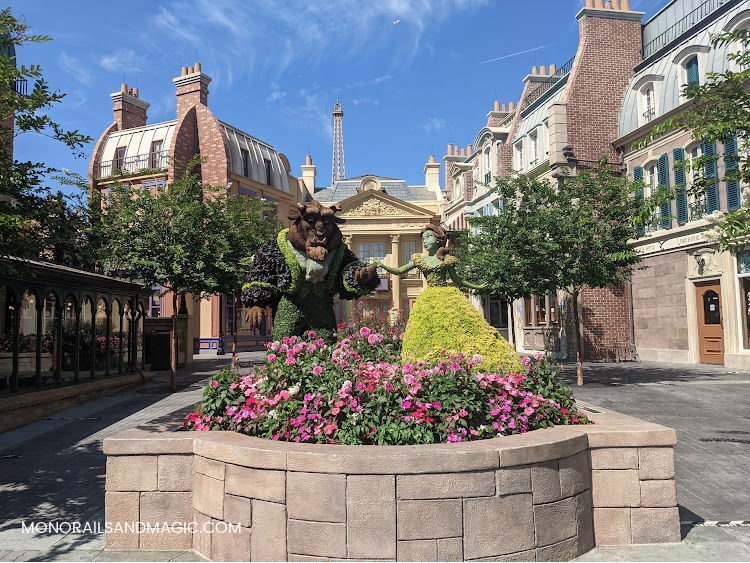 Global Gardens
The gardens are so much more than just something pretty to admire. You can wander through dazzling flowerbeds, stumble upon exotic gardens, learn more about sustainable foods, and celebrate the ways we can live in harmony with the natural world.
Bamboo Garden (China Pavilion)
Visit this garden to see bamboo in a variety of colors, patterns and sizes.
Blossoms of Fragrance Presented by Scentsy (World Showcase Bridge)
Follow your nose and form lasting memories with the help of fresh, unforgettable fragrances.
Bold Bromeliads (World Nature by The Land Pavilion)
Observe a variety of unique and colorful plants that can adapt to a wide range of climates and conditions.
Bonsai Collection (Japan Pavilion)
Learn about the art of bonsai, some of the finest living sculptures. Bonsai masters carefully shape and tend these miniature works of art, creating peace and balance with the earth.
Bouquet Garden (France)
See bountiful blooms perfect for a bouquet of cut flowers.
Butterfly Landing Presented by AdventHealth (World Nature near Imagination!)
View a kaleidoscope of butterflies up close, in all their extraordinary color. Learn about butterfly lifecycles and maybe even see one emerge from its chrysalis. Closes at dusk.
China Zodiac Garden (China Pavilion)
Realize your finer attributes in this garden inspired by the 12 creatures of the Chinese zodiac.
The Community Garden – NEW! (World Celebration) Connect with the earth and each other at this celebration of a diverse and thriving communal garden plot.
Connections Conservatory Garden (Connections Eatery)
Settle into this thoughtful garden full of floral inspirations for your indoor spaces.
Desert Garden (Mexico Pavilion)
Discover the special adaptations that allow plants in arid climates to adjust to the harshest of growing conditions.
English Tea Garden Presented by Twinings® (United Kingdom Pavilion)
Unearth the history and art of tea-blending at this elegant English tea garden at the United Kingdom Pavilion, featuring plants used in some of Twinings®' finest blends.
Family-Friendly Garden Presented by OFF!
Explore a camp-themed garden where little ones are invited to jump, play and climb.
Festival Blooms (World Celebration)
Admire thousands of flowers that form colorful, living panoramas—with a 50th Anniversary celebration theme.
Floating Gardens (World Nature)
Peer upon more than 150 petite plots drifting on the ponds that border the bridge to World Showcase.
Garden Italiano (Italy Pavilion)
From fresh spaghetti sauce to pizza toppings, this Tuscan kitchen garden features all the produce and herbs needed to create a classic Italian feast.
The Honey Bee-stro Hosted by National Honey Board® (Rosewalk near Imagination!)
Learn about honeybees' critical role in the environment, and enjoy sweet and savory treats made possible by their hard work.
Kokedema Garden (Japan Pavilion)
Admire fresh expressions of an ancient Japanese art at this tranquil garden.
Miniature Garden (Germany Pavilion)
Appreciate the little things in this showcase of diminutive dwellings nestled in a forest of fine shrubs.
Prehistoric Garden (World Discovery near Mission: SPACE)
Imagine life on Earth 65 million years ago with astounding plant life that's thrived since the age of the dinosaurs.
Shakespeare Garden (United Kingdom Pavilion)
Rediscover Shakespeare in this idyllic garden featuring excerpts from some of the Bard's most famous sonnets—and the dazzling flowers that influenced them.
Shishi-odoshi – NEW! (Japan Pavilion)
Contemplate the methodical movement and soothing rhythm of this traditional Japanese bamboo water fountain.
Songbird Meadow Presented by Wild Birds Unlimited® (World Discovery) Songbirds are an important part of many ecosystems—including the one in your own backyard! Discover simple steps you can take at home to help these feathered friends thrive.
Spice Garden (Morocco Pavilion)
Discover how Eastern cultures flourished, trading signature spices and herb blends, once considered more valuable than gold.
Topiary Heritage Garden (United Kingdom Pavilion)
Marvel at the varied techniques employed by the Walt Disney World Horticulture team to create the festival's topiaries.
Tropical Rainforest Garden (Mexico Pavilion)
Discover the rich biodiversity of the Mexican rainforest and learn about its highly adaptive species.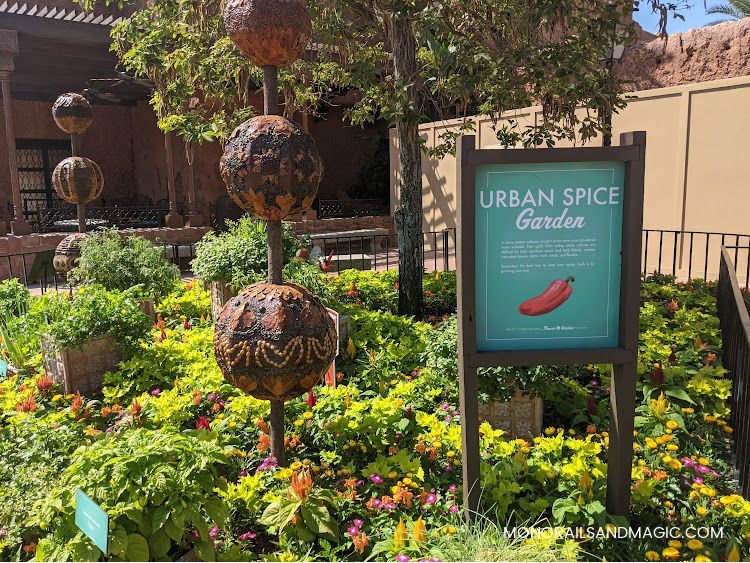 ---
Special Festival Activities
The Epcot International Flower & Garden Festival is not only beautiful and yummy, but there is fun to be had by the whole family.
Spike's Pollen-Nation Exploration
Embark on a springtime scavenger hunt for gardeners of all ages.
Follow Spike the Bee on his pollination trail, where he will "bee" busy collecting nectar and pollinating gardens at EPCOT. To get started, purchase your map and stickers at select merchandise locations (available while supplies last). Once you have completed your scavenger hunt, return your completed map to Disney Traders or World Traveler for a special surprise.
Cost: $9.99 + tax, while supplies last.
Spike's Pollen-Nation Exploration is subject to availability. Maps and prizes are available while supplies last.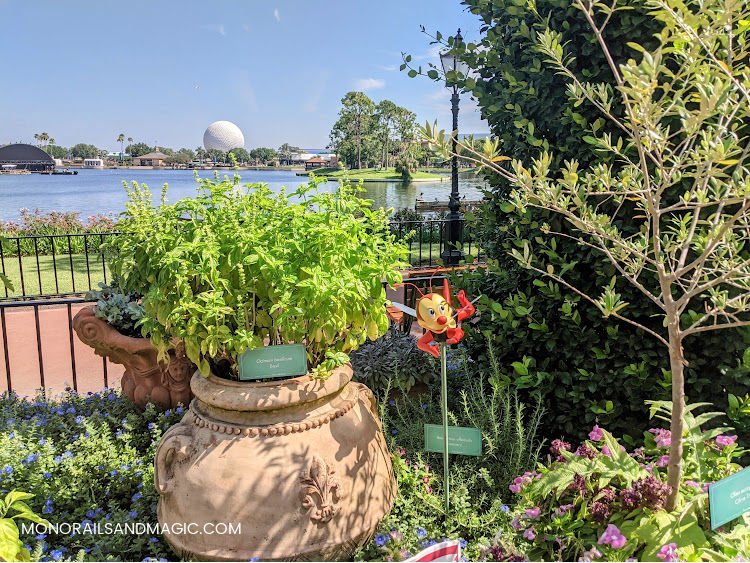 Garden Graze
This fun food stroll highlights 10 sweet and savory offerings available at the EPCOT International Flower & Garden Festival. Collect a matching stamp in your Festival Passport for each specially notated menu item you purchase and—when you've collected 5 stamps—bring your Festival Passport to Pineapple Promenade to receive a specialty treat.
---
Garden Rocks Concert Series
The Garden Rocks Concert Series is back for 2023! The concerts take place on the American Gardens Theater Stage in World Showcase. The concerts take place at 5:30 PM, 6:45 PM and 8:00 PM during EPCOT International Flower & Garden Festival.
March 1 & 2 – Glass Ceiling
March 3 &4 – Journey Former Lead Vocalist Steve Augeri
March 5 & 6 – Daughtry
March 7-9 – Audio Exchange
March 10 & 11 – Tommy DeCarlo
March 12 & 13 – Smash Mouth
March 14-16 – Element
March 17 & 18 – Mike DelGuidice
March 19 & 20 – Blue Oyster Cult (NEW)
March 21-23 – The Vybe
March 24 & 25 – Berlin
March 26 & 27 – The Pointer Sisters
March 28-30 – The Female Collective
March 31 – Luis Figueroa (NEW)
April 1 & 2 – Piso 21 (NEW)
April 3 – Melina León
April 4-6 – Epic
April 7 & 8 – STARSHIP featuring Mickey Thomas
April 9 & 10 – Don Felder, formerly of the Eagles
April 11-13 – Foregniers Journey
April 14 & 15 – Blue October
April 16 & 17 – Switchfoot (NEW)
April 18-20 – Evolution: Motown
April 21 & 22 – A Flock of Seagulls
April 23 & 24 – Jo Dee Messina
April 25-27 – Hooligans
April 28 & 29 – Ambrosia with Peter Beckett, The Voice Of Player
April 30 & May 1 – Kool & The Gang
May 2-4 – The Finesse Party Band
May 5-8 – Herman's Hermits starring Peter Noone
May 9-11 – Latin Ambition
May 12-15 – The Orchestra starring former members of ELO
May 16-18 – 506 Crew
May 19 & 20 – A.J. Croce: Croce Plays Croce (NEW)
May 21 &22 – Casting Crowns (NEW)
May 23-25 – M-80's
May 26 & 27 – Jason Scheff, longtime lead singer of Chicago (NEW)
May 28 & 29 – Rick Springfield
May 30-June 1 – Champagne Orchestra
June 2-5 – Plain White T's
June 6-8 – Glass Ceiling
June 9 & 10 – The Spinners
June 11 & 12 – The Commodores
June 13-15 – Element
June 16 & 17 – Vertical Horizon
June 18 & 19 – Tony Orlando
June 20-22 – Foregniers Journey
June 23-26 – Simple Plan
June 27-29 – Epic
June 30 & July 1 – Living Colour
July 2 & 3 – Wang Chung
July 4 & 5 – Evolution: Motown
---
Epcot International Flower & Garden Festival FAQ
Do I need to buy an additional ticket for the festival?
No, the festival is included with your Epcot admission ticket and Epcot park reservation.
How do I pay at the Outdoor Kitchens?
The Outdoor Kitchens accept the same forms of payment as other dining locations throughout Walt Disney World. You can pay with cash, major credit cards, Disney gift cards, and a Disney Rewards Redemption Card.
Is the festival open all day?
The Outdoor Kitchens booths typically open around 11:00am and close just before park closing. Occasionally, some booths may open a little later and some may even close a little early.
I am a really picky eater. Do I have to order everything as is?
The answer all depends on how the item is prepared. If it has a sauce, garnish, side, etc. that is added just before they hand it to you, you can ask them to leave it off. I recommend watching how things are prepared before you order something you may not like.
Are there places to sit and eat?
Not many. You may get lucky and find a bench, but most people stand and eat. There are tables spread throughout the Outdoor Kitchen areas where you can stand. Many guests have been known to use the trashcans as tables.
I don't drink alcohol. Will there be anything for me to drink?
Yes! Many of the Outdoor Kitchens offer non-alcoholic specialty drinks and all of them sell bottled water.