Fun Books to Help You Celebrate Star Wars Day
In recent years, the date May 4th has become an unofficial Star Wars Day around the world. "May the force be with you" easily becomes "May the fourth be with you" and Star Wars fans love to celebrate!
If your family loves Star Wars and Disney related books, there are so many books to help you celebrate Star Wars Day. There are options for the youngest children, older children, and adults. There are storybooks, chapter books, and books loaded with Star Wars facts.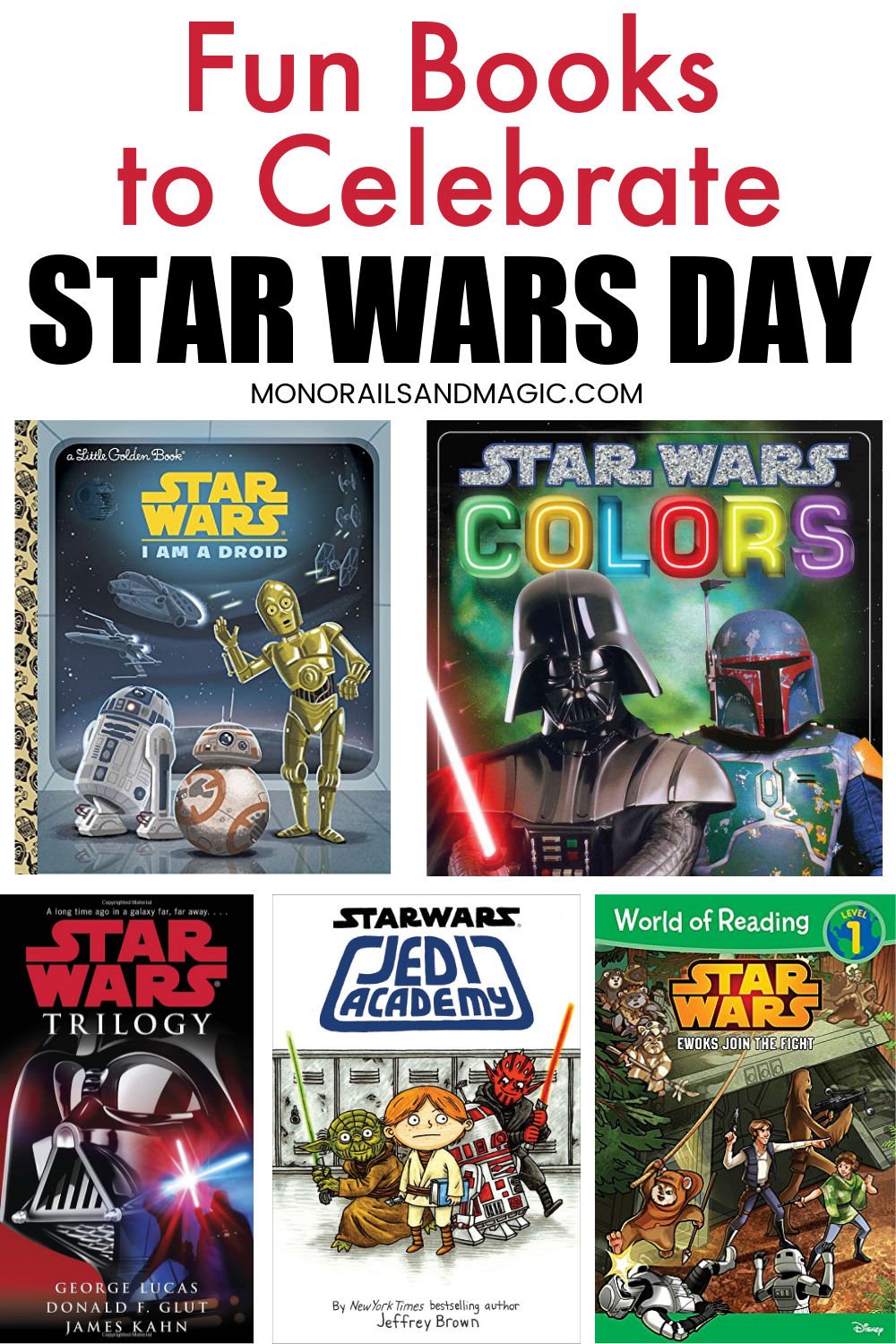 ***This post includes affiliate links. Please see my disclosure policy for more information.***
Fun Books for Star Wars Day
Do you have a favorite book for Star Wars Day? Here are tons of fun options for you!
Star Wars Books for Young Children
Even the youngest fans can enjoy Star Wars Colors from Scholastic. This board book features colorful images from the movies, while teaching basic concepts.
If you only have a few minutes, share exciting events from the movies with your child by reading aloud from 5-Minute Star Wars Stories from LucasFilm Press.
There is a whole series of Little Golden Books based on Star Wars characters and stories that would be perfect for little ones. They include I Am a Droid, I Am a Jedi, and I Am a Pilot.
Author Jeffrey Brown takes a look at the lighter side of Darth Vader in the comically illustrated Darth Vader and Son, Vader's Little Princess, and Good Night Darth Vader.
Is your Star Wars fan just learning to read alone? The World of Reading leveled reader series includes several Star Wars titles. They are available in a fun Level One boxed set and a fun Level Two boxed set.
Star Wars Books for Older Children and Adults
Keeping track of all of the characters, locations, vehicles, and storylines in the Star Wars movies can be a challenge even for the biggest fan. Fortunately there are books to help with that! Star Wars Character Encyclopedia, Star Wars: The Complete Visual Dictionary, and Ultimate Star Wars all feature amazing photographs, illustrations, and tons of information.
Author Jeffrey Brown also has a chapter books series featuring a humorous look at a newly created character, Roan, and his time as a young teen at Jedi Academy. Your older reader will love Star Wars: Jedi Academy, Return of the Padawan, and The Phantom Bully.
Older readers and adults will enjoy the original trilogy in book form in Star Wars Trilogy by George Lucas.
Years ago, author Timothy Zahn created his own story as a follow up to the original trilogy in his Thrawn Trilogy books Heir to the Empire, Dark Force Rising, and The Last Command.
Author Claudia Gray takes a look at the events in the Star Wars movies through the eyes of two new characters in Journey to Star Wars: The Force Awakens Lost Stars.