5 Gift Ideas for Walt Disney World Fans
Now that you have checked out the gift ideas for kids who love Disney, you probably still have more shopping to do. Do you need to shop for any Walt Disney World fans this holiday season? Walt Disney World fans would like nothing more than to spend a few days visiting the parks. But they usually can't do that as often as they would like. Fortunately there are lots of cool gifts that help make the wait more bearable. Today I'm sharing five gift ideas for Walt Disney World fans to help you out.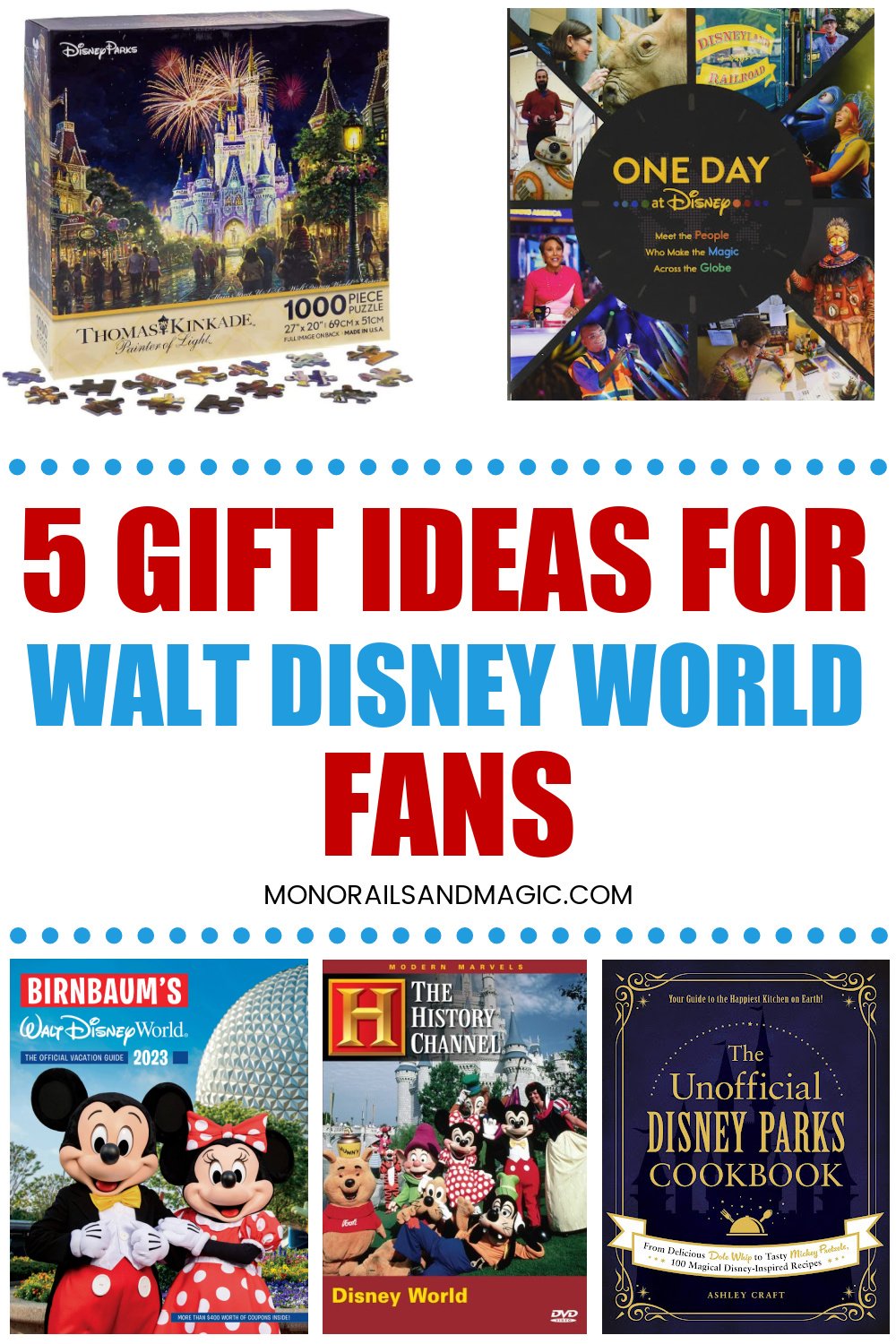 ***This post includes affiliate links. Please see my disclosure policy for more information.***
Gift Ideas for Walt Disney World Fans
Walt Disney World fans love anything having to do with the parks. These gift ideas would be great for anyone dreaming of their next trip to the parks.

1. The One Day at Disney book is perfect for Walt Disney World fans. Eighty cast members from The Walt Disney Company show us what a day in their life is really like. While this book covers more than just Walt Disney World, fans of the parks will love it!

2. The History Channel's Modern Marvels Walt Disney World series is a few years old, but it is still amazing. It is full of behind the scenes information that any parks fan would love.

3. If there is one thing a Walt Disney World fan likes to do, it's plan their next trip. One of the best guides to Walt Disney World is Birnbaum's Official Vacation Guide. The books are always colorful, full of helpful information, and completely up to date. I can't imagine planning a trip to the parks without one.

4. Waiting for your next trip can be difficult. But finding fun Disney inspired ways to pass the time can help. Thomas Kinkade has created beautiful artwork for decades and his Main Street USA Fireworks puzzle is absolutely beautiful! Families could even work on it together.

5. The Unofficial Disney Parks Cookbook is full of Disney Parks inspired recipes. There are over 100 recipes that will make you feel like you are dining in the parks!