The China Pavilion in Epcot's World Showcase is breathtakingly beautiful. Full of sights, sounds, and even delicious smells of the country. China is such an interesting country for children and there are tons of educational resources for Epcot's China Pavilion.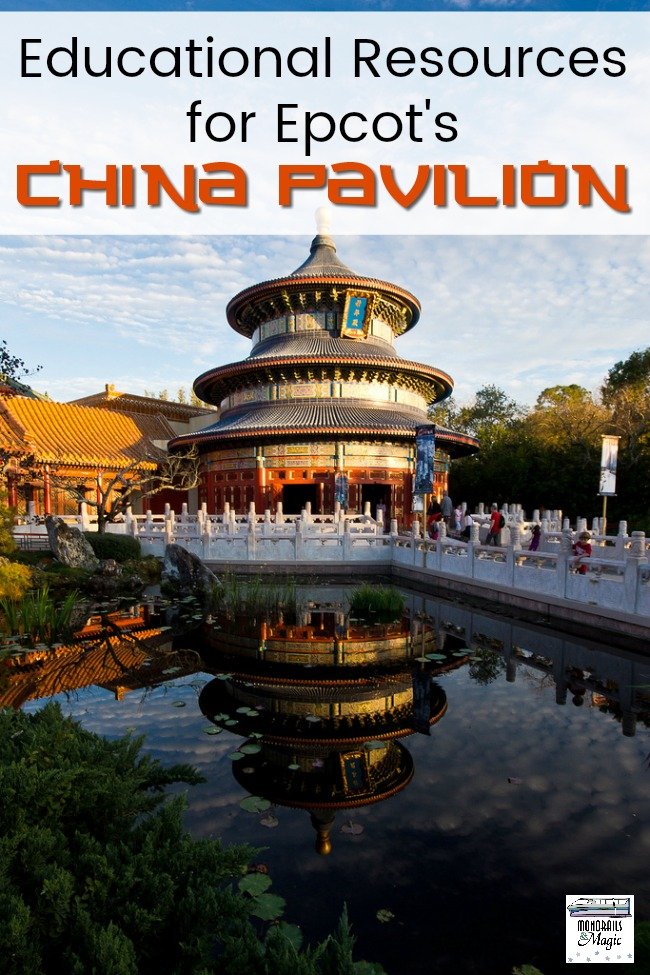 ***Please note: This post includes affiliate links. Please see my disclosure policy for more information.***
Educational Resources for Epcot's China Pavilion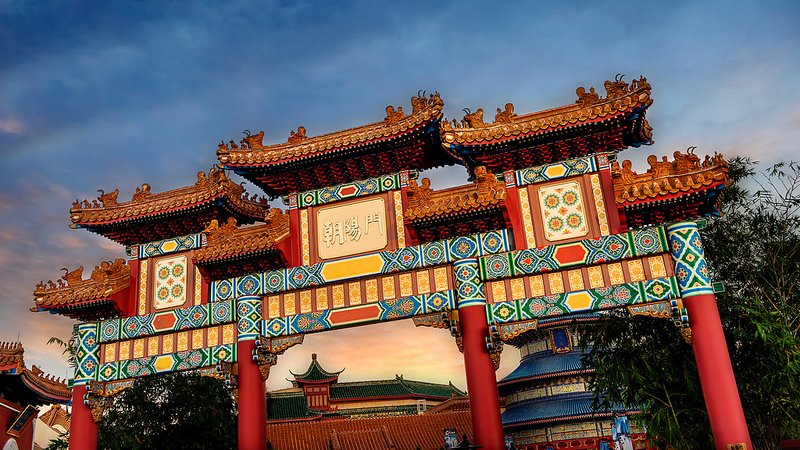 As you enter the picturesque China pavilion through the gateway known as the Gate of the Golden Sun, you are immediately immersed in the culture. From the lush gardens to the architecture of the Temple of Heaven to the peaceful ponds, there is no mistaking that you are now in China.
Crafts and Activities to Learn About China
Royal Baloo offers wonderful and free printable packs aimed at toddlers through first graders. Their Chinese New Year packs are a great way to introduce your children to this holiday and to reinforce academic skills at the same time.
Creative Family Fun offers a huge collection of crafts, food, and other activities to help introduce your children to the Chinese culture. You are sure to find something fun to do.
Are your little ones interested in trying chopsticks? Mama OT shows us a simple way to make kiddie chopsticks that will even help your children with their fine motor skills.
Preschool Powol Packets has a fun STEM activity to help children understand the structure of the Great Wall of China.
Books About China
Chinese Children's Favorite Stories by Mingmei Yip features classic Chinese folktales, many over 1,000 years old.
Young children can learn about China's history and culture in China ABCs: A Book About the People and Places of China by Holly Schroeder.
Your child can follow along in a day in the life of a young boy living in China in Living in…China by Chloe Perkins.
Even young children can learn to speak a few words in Chinese with the help of My First Book of Chinese Words by Faye-Lynn Wu.
The DK Eyewitness Books are always full of tons of information and amazing photographs and illustrations. Ancient China and China are no exception.
Welcome to China by Caryn Jenner is a great overview of the country for developing readers.
 Chinese Children's Favorite Stories
 China ABCs: A Book About the People and Places of China (Country ABCs)
 Living in . . . China
 My First Book of Chinese Words: An ABC Rhyming Book of Chinese Language and Culture
 DK Eyewitness Books: Ancient China
 China (DK Eyewitness Books)
 Welcome to China (DK Readers)
What lessons do you think your children could learn from EPCOT's China Pavilion?
Main Photo credit: barron / Foter / Creative Commons Attribution-NonCommercial-ShareAlike 2.0 Generic (CC BY-NC-SA 2.0)
Ceremonial Gate Photo credit: wbeem via Foter.com / CC BY-NC