Today we are sharing some ideas to get you started on your holiday shopping. Disney fans are often also Marvel fans. So if you have a Marvel fan in your family, then you will want to check out all of these fun Marvel gifts for kids.
---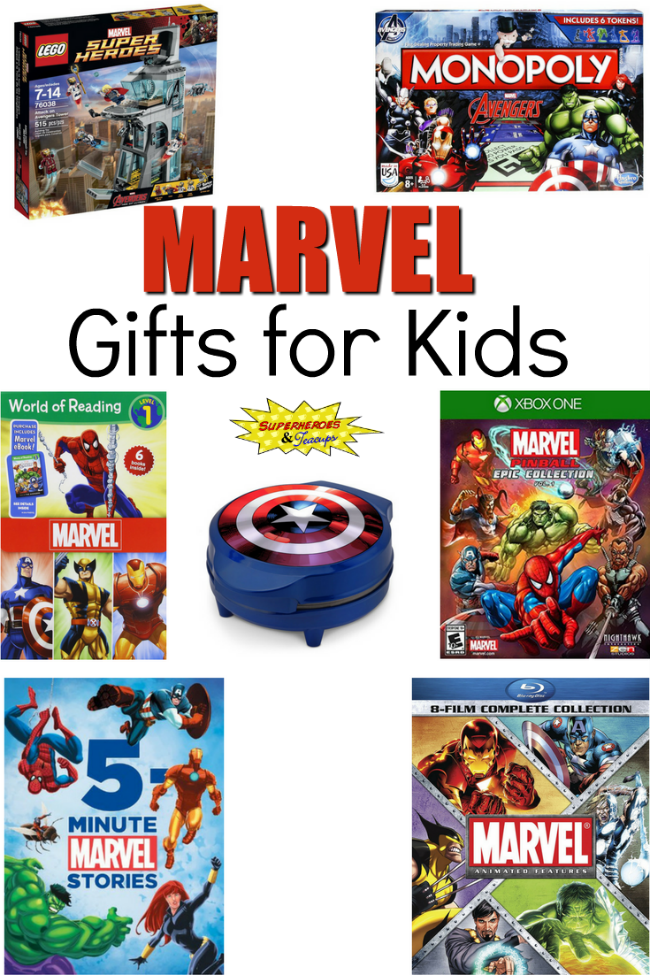 ***This post contains affiliate links. Please see my disclosure policy for more information. ***
Marvel Gifts for Kids
The Marvel characters are everywhere and the movies are some of the most popular movies ever made. Even if your child is too young for the movies, there are plenty of other ways for them to experience the characters and stories.
Marvel Books
Your child's bedtime stories can be a lot more exciting if you read the 5-Minute Marvel Stories to them.
Marvel comes to the classic Little Golden Books in this collection of three favorite stories in one hardback book.
The World of Reading Level 1 books are a great way for beginning readers to enjoy the Marvel characters. This boxed set includes six different books.
Young fans who are new to the world of Marvel may have trouble keeping all of the characters straight. Meet the Marvel Superheroes contains information on over 100 different characters.
Older readers who want even more information on the Marvel characters will love the Marvel Encyclopedia.
Marvel Toys
Marvel fans who also love LEGO can rejoice because there are tons of Marvel LEGO sets. LEGO Superheroes Attack on Avengers Tower is a set every Marvel fan will want.
Your family can play as one of the Avengers in the Monopoly Avengers Game. It's traditional Monopoly with a Marvel twist.
The game of Risk gets a make-over in this Marvel Cinematic Universe Board Game. This two-sided game also features a Guardians of the Galaxy version.
Young Marvel fans don't need to feel left out when it comes to board games. The Marvel Matching Game is perfect for them.
Your child can battle as Iron Man or Captain America with the Civil War Slide Blast Armor and the Civil War Blaster Reveal Shield.
Marvel Video Games and Movies
One of the newest video games is Marvel Pinball: Epic Collection Volume 1. It features realistic pinball simulation and favorite Marvel characters.
The world of LEGO and the world of Marvel come together again in the LEGO Marvel's Avengers game.
Our favorite Marvel superheroes help save the Tri-State area in the full-length adventure, Phineas and Ferb: Mission Marvel.
Did you know there are animated feature films based on the Marvel characters? Eight Marvel animated features are part of this Blu-ray collection.
Other Fun Marvel Gifts
Your whole family can have waffles shaped like Captain America's shield with this Marvel waffle maker.
How about a Marvel themed bedroom? You can achieve that with this reversible comforter, sheet set, and peel and stick wall decals.
Your child can look totally awesome at school with this Marvel backpack.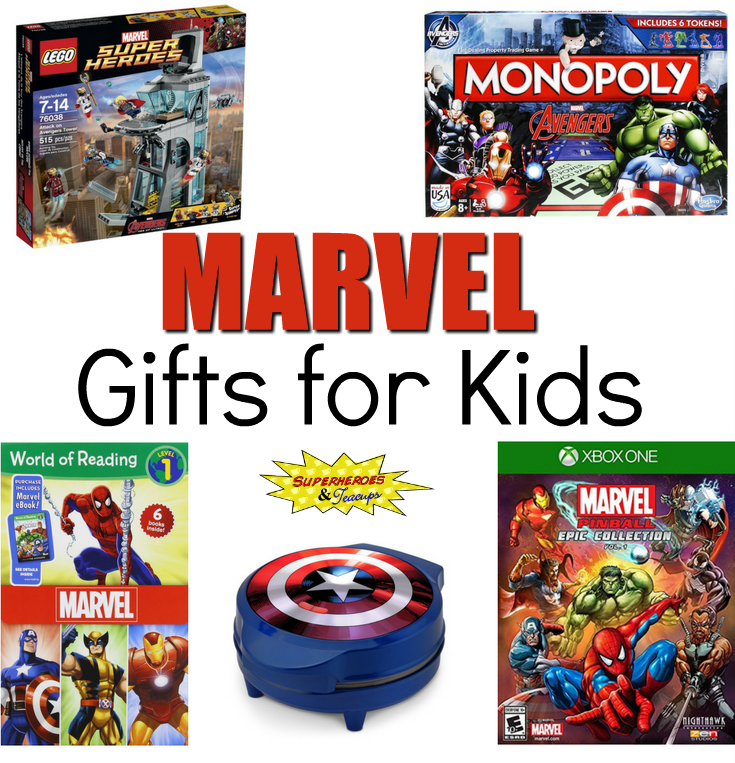 You might also like: