Educational Resources for Epcot's American Pavilion
The American Pavilion at Epcot in Walt Disney World is located in the center of World Showcase, between Italy and Japan. While most children know a lot about American history, this pavilion still gives them a great opportunity to learn more. Needless to say, there are a ton of educational resources out there to help you. But if you want to keep things simple, here are a few easy educational resources for Epcot's American Pavilion.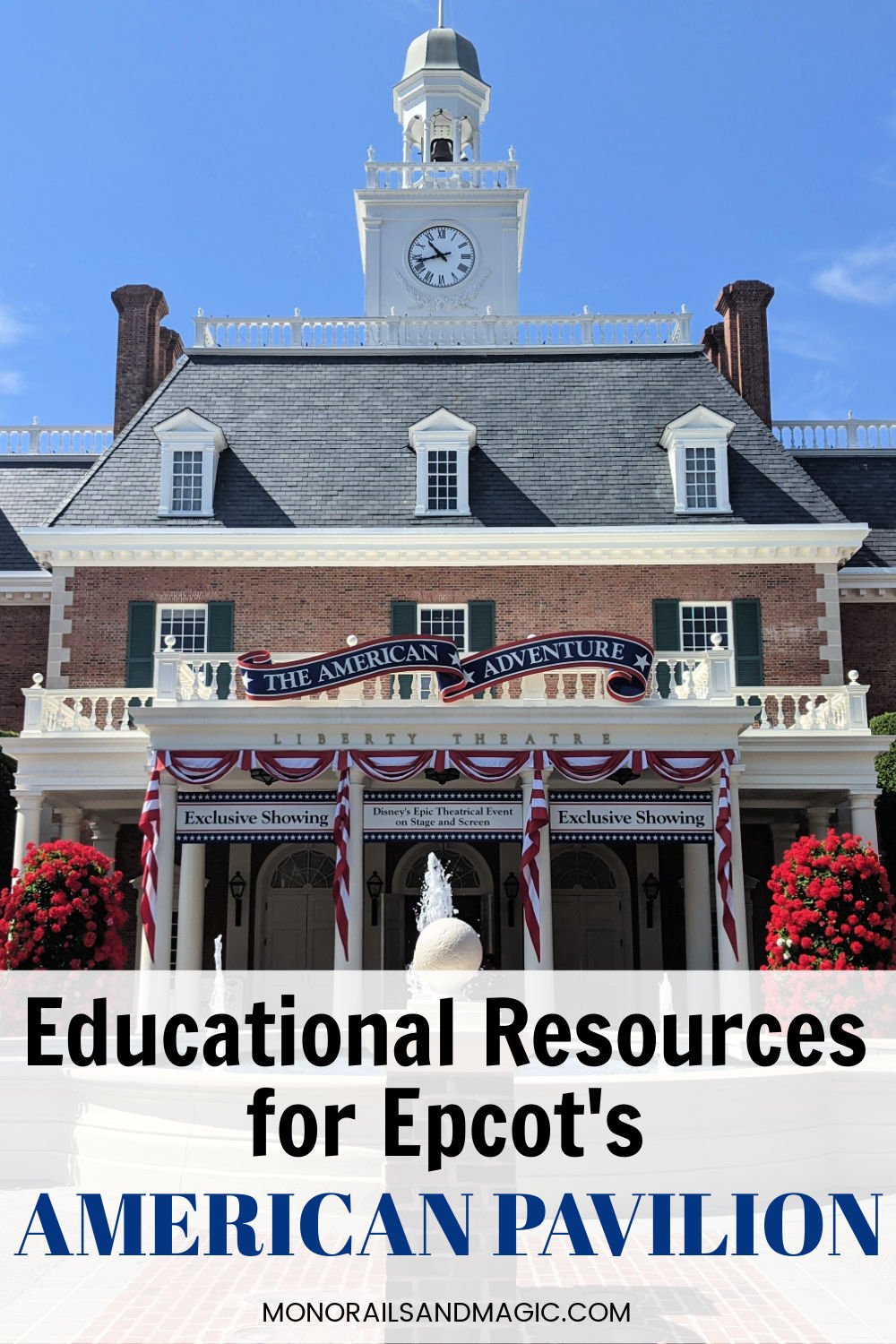 ***This post includes affiliate links. Please see my disclosure policy for more information.***
Educational Resources for Epcot's American Pavilion
The American Pavilion is the heart of World Showcase in every way. The colonial style architecture, the Voices of Liberty, and the American Adventure all help to create an atmosphere that fills you with a patriotic spirit.
While it may not be as detailed as the other countries, this pavilion is educational from the moment you walk through the door!
The American Adventure
This attraction features Audio-Animatronic figures, digital rear-projection images on a 72-foot screen, and classic patriotic songs. Your hosts, Benjamin Franklin and Mark Twain, walk you through landmark events in American history.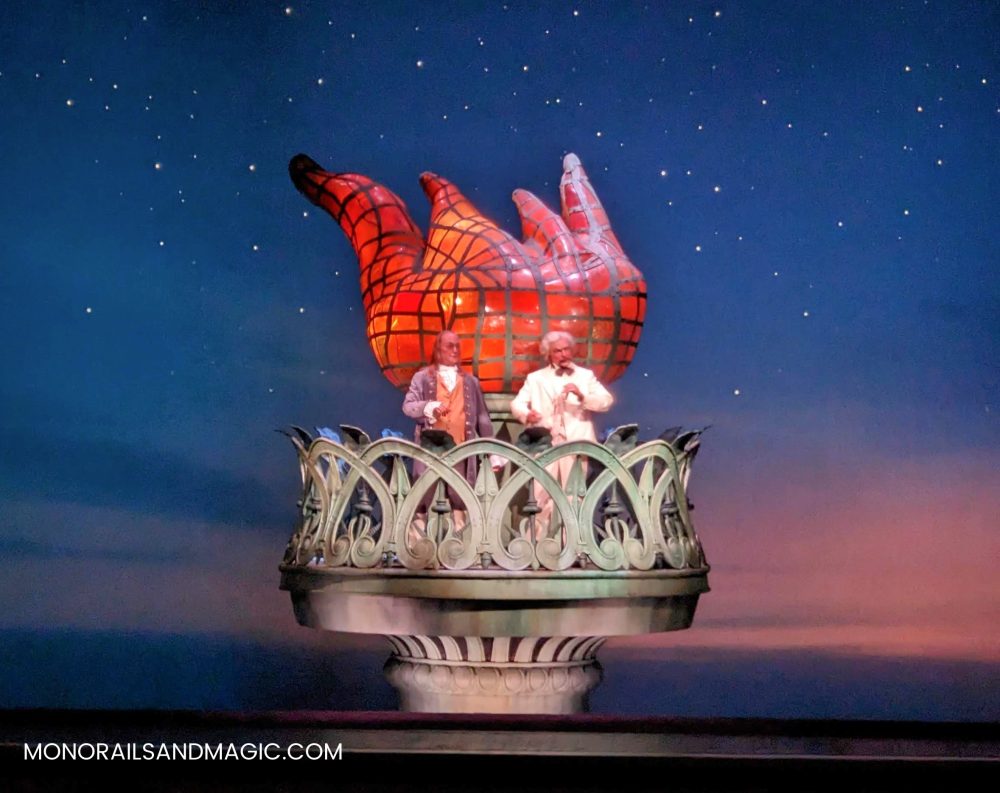 The Hall of Flags
As you walk upstairs toward The American Adventure, you walk through the Hall of Flags. Here you can see flags from throughout American history.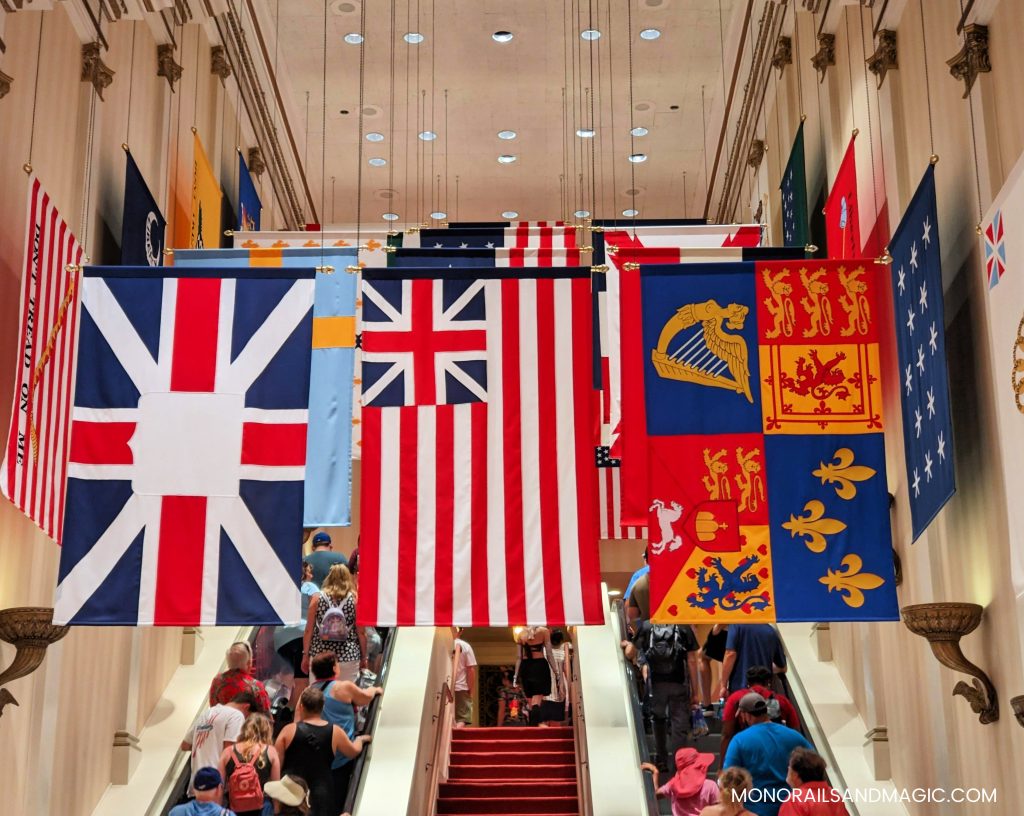 Voices of Liberty
The Voices of Liberty is an acapella group that performs in the rotunda of the American Adventure building. Gone are the costumes from the 1800's, however. They currently perform traditional patriotic music in more modern red and blue colored clothing.
Educational Resources for Epcot's American Pavilion at Home
When you are not in the park, you can use this fun Epcot pavilion as inspiration for learning at home. Give these fun activities and books a try.
Crafts and Activities to Learn About America
3 Dinosaurs has free printable packs about the 4th of July and the American Revolution.
Young children can learn all about American symbols with this printable 4th of July book from A Little Pinch of Perfect.
Crystal & Co. has 12 adorable American flag crafts for children of all ages. There is something fun here for everyone!
If you are looking for healthy patriotic snacks for kids, head on over to Southern Made Simple.
Artsy Momma shares a great collection of patriotic themed crafts for kids, including a Statue of Liberty crown and torch, and Uncle Sam, and an American eagle. There are so many fun activities you can choose!
Books About America
Oh, Say Can You See? America's Symbols, Landmarks, and Important Words by Sheila Keenan helps children understand the history and the meaning behind the flag, the bald eagle, and more.
In America Is…, Louise Border describes in words an illustrations what it is like to live in the United States.
Younger children will enjoy learning their alphabet with A Is for America: A Patriotic Alphabet Book by Tanya Lee Stone.
Illustrator Chris Gall takes Katharine Lee Bates' timeless lyrics to "America the Beautiful" and transforms them into gorgeous works of art.
Older children might enjoy American History: A Visual Encyclopedia by DK and the Smithsonian Institution.
More Disney Educational Resources: