The American Pavilion at Epcot in Walt Disney World is the center of World Showcase.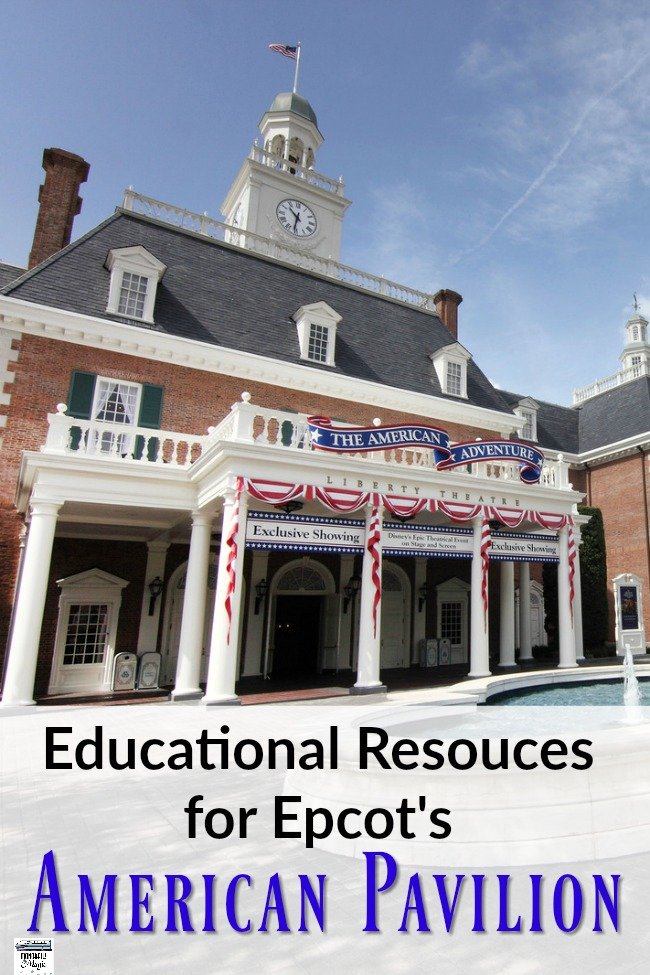 ***Please note: This post includes affiliate links. Please see my disclosure policy for more information.***
Educational Resources for Epcot's American Pavilion
The American Pavilion is the heart of World Showcase in every way. The colonial style architecture, the Voices of Liberty, and the American Adventure all help to create an atmosphere that fills you with a patriotic spirit!
This is the one country in World Showcase that your children probably already understand. But here are a few fun ways to help your child get to know the USA a little better and to develop their own patriotic spirit.
Crafts and Activities to Learn About America
3 Dinosaurs shares a collection of hands-on activities, sensory bins, and educational printable packs all about the Fourth of July and the Revolutionary War.
Young children can learn all about American symbols with this printable 4th of July book from A Little Pinch of Perfect.
Crystal & Co. has 12 adorable American flag crafts for children of all ages. There is something fun here for everyone!
If you are looking for healthy patriotic snacks for kids, head on over to Southern Made Simple.
Artsy Momma shares a great collection of patriotic themed crafts for kids, including a Statue of Liberty crown and torch, and Uncle Sam, and an American eagle. There are so many fun activities you can choose!
Books About America
In America Is…, Louise Border describes in words an illustrations what it is like to live in the United States.
Illustrator Chris Gall takes Katharine Lee Bates' timeless lyrics to "America the Beautiful" and transforms them into gorgeous works of art.
What lessons do you think your children could learn from Epcot's American Pavilion?
Main Photo by Sam Howzit on Foter.com / CC BY