Snow White and the Seven Dwarfs Books for Kids
As Walt Disney's first full-length animated movie, Snow White and the Seven Dwarfs holds a special place in the hearts of people of all ages. Children love exploring the stories and the characters and a great Disney book is a fun way to do it. This list of Snow White and the Seven Dwarfs books for kids has something for everyone.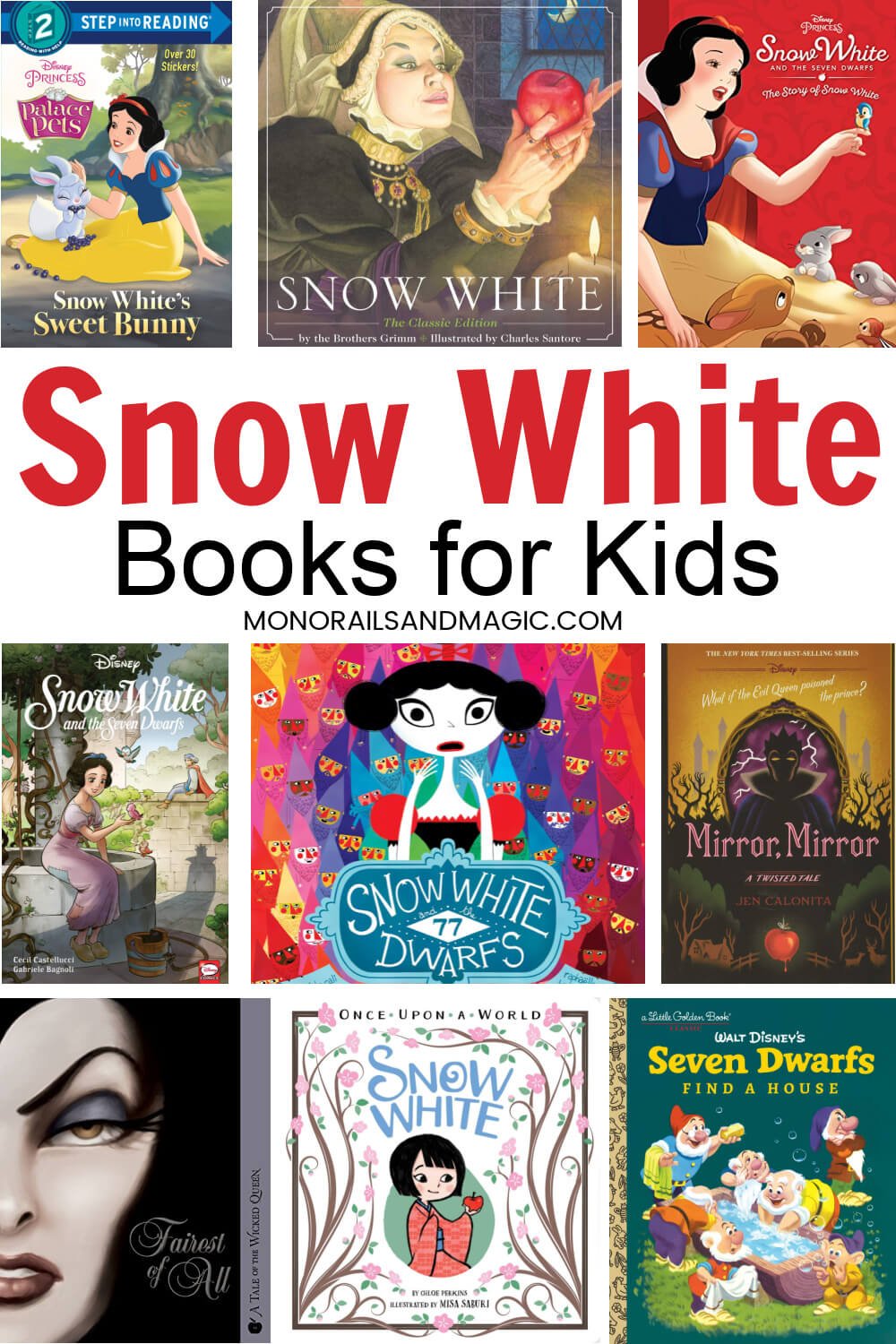 ***This post includes affiliate links. Please see my disclosure policy for more information.***
Snow White and the Seven Dwarfs books for Kids
One of the fun things about Disney animated movies is that they provide great stories and characters for children's books. In this list you will find classic versions of the fairytale, adaptations from other countries, and even young adult novels.
---
Snow White: The Classic Edition by The Brothers Grimm
Has your child ever heard the traditional fairytale version of Snow White? Stunning original watercolors bring the fairytale to life in this classic edition of Snow White, perfect for adults and children alike.
---
Snow White and the 77 Dwarfs by Davide Cali
This is a hilarious retelling of the classic tale, with bright, energetic illustrations featuring 77 busy dwarfs and the even busier Snow White.
---
---
---
Seven Dwarfs Find a House by Annie North Beford
Little Golden Books are always popular with children. Find out how Snow White's friends the Seven Dwarfs–Sleepy, Happy, Bashful, Sneezy, Grumpy, Doc, and Dopey–find their delightful little cottage in this classic from 1948.
---
More Snow White and the Seven Dwarfs Fun:
---
Snow White (Once Upon a World) by Chloe Perkins
The classic tale of Snow White gets a fresh twist in this debut title of a brand-new board book series, Once Upon a World. Set in Japan, this book offers a multicultural take on the fairytale we all know and love.
---
---
Disney's Snow White and the Seven Dwarfs by Disney and Cecil Castellucci
The tale of Disney's Snow White and the Seven Dwarfs is told through the perspective of the princess herself! This graphic novel revives the timeless classic of Snow White for audiences young and adult.
---
Fairest of All: A Tale of the Wicked Queen by Serena Valentino
For the first time, we'll examine the life of the Wicked Queen and find out just what it is that makes her so nasty. This is book #1 in the Villains series for young adults.
---
Mirror, Mirror: A Twisted Tale by Jen Calonita
What if the Evil Queen poisoned the prince? Can she stop an enemy who knows her every move and will stop at nothing to retain her power… including going after the ones Snow loves? Find out in this young adult novel from the Twisted Tales series.