How to Deal With Picky Eaters at Walt Disney World
Do you have anyone in your immediate family who is a picky eater? Maybe it's a child, your spouse, or even yourself. Then you know that finding something to eat when out and about can be a challenge. Especially when you are somewhere with many, many choices, like Walt Disney World. Fortunately, there are ways to make your next trip with picky eaters much easier.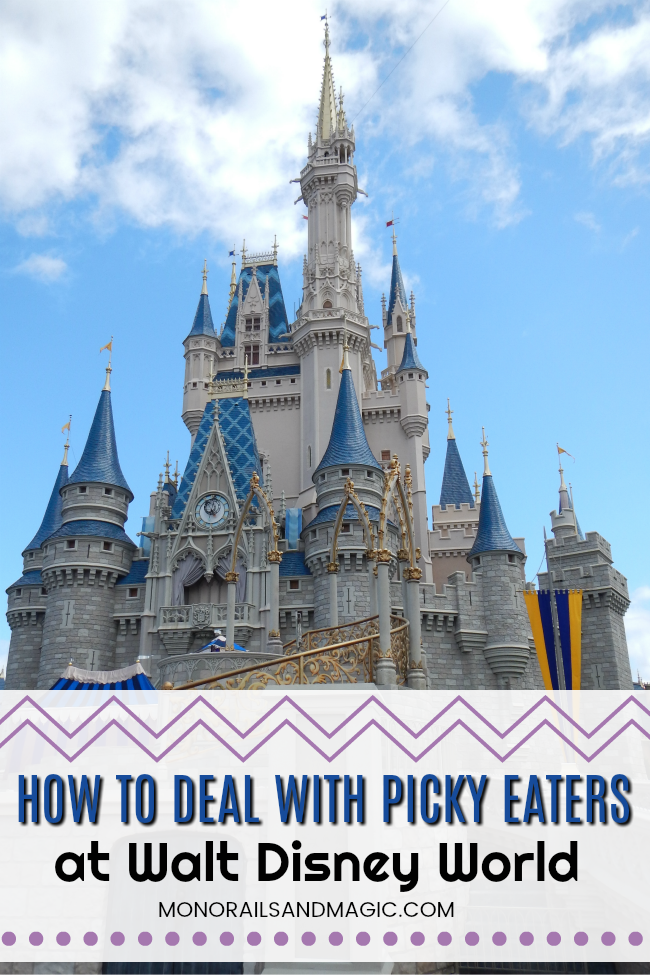 I am somewhat of a picky eater. My husband is very picky but, since he's an adult, he is willing to try new foods. My boys are a different story. They are now eight-years-old and VERY picky eaters. And, of course, they like and dislike different things, which makes planning meals at theme parks loads of fun.
Before our first family trip to Walt Disney World in 2013, I came up with a plan that I hope will help you too!
How to Deal with Picky Eaters at Walt Disney World
1. Familiarize yourself with the Walt Disney World restaurant menus. Fortunately, this is very easy to do. You can find detailed menus on the official Walt Disney World website and on other websites, such as AllEars.net. If your picky eaters are children, make sure you look at the adult menus too. Even if there is nothing on the kids menu that your child would like, there may be something on the adult menu. (If you are purchasing the Disney Dining Plan, please be sure to check the rules regarding what children ages 3-9 can order.)
2. Look carefully at the table service menus BEFORE you make your dining reservations. Since you typically make these reservations several months ahead, there is plenty of time to take a look. There are so many amazing table service restaurants, but you can't just make a reservation at a restaurant because it sounds interesting. The last thing you want is to make the effort to get a reservation, only to discover as you sit down to eat that there is nothing on the menu for your picky eater. For example, I would love to eat at the Biergarten Restaurant in EPCOT because of the atmosphere, but there is absolutely nothing on the menu that my boys would like. So, for now, I will be making reservations elsewhere.
3. Look carefully at the quick service menus BEFORE your trip and make notes. Lots of them. When you are in a park and it's lunchtime and everyone is starving, the last thing you want to do is randomly pick someplace to eat. You run the risk of unhappy, hungry eaters. I make a spreadsheet of all of the quick service restaurants, broken down by park and even area of the park. I make notes about what each restaurant has that would fit our needs. I then print it out and carry it with me every day on our trip. Then, no matter where we are, I can take a quick look and see where we should eat.
4. Remember that you are on vacation. You probably won't be able to give your family three balanced meals and healthy snacks every day. You can certainly try, but it's ok if it doesn't happen. If everyone is happy and has something to eat, it's a good day!