Ratatouille Word Search Free Printable
Disney/Pixar's Ratatouille, released in 2007, is loved by fans young and old. The movie even inspired an attraction at Disneyland Paris that has recently been added to Epcot in Walt Disney World. If you have a child who enjoys this movie and a fun Disney printable, grab a copy of this Ratatouille word search for them today.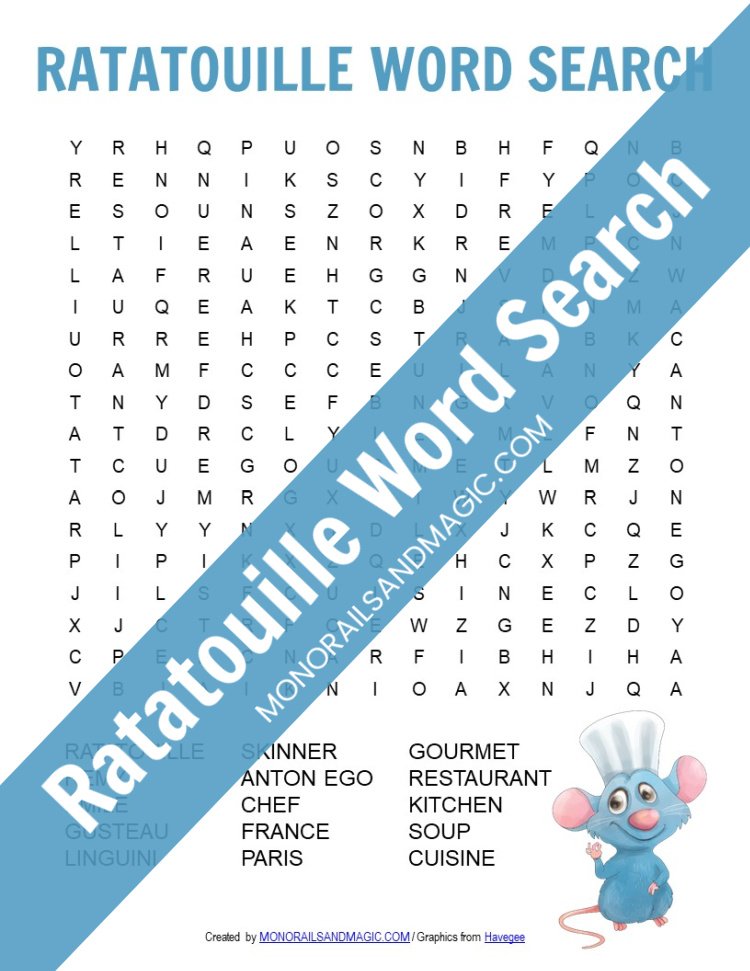 ***This post includes affiliate links. Please see my disclosure policy for more information.***
Ratatouille Word Search
This Ratatouille word search contains 15 words all related to the movie. The words can be found horizontally, vertically, and diagonally, plus they can be forwards or backwards.
The following words are included:
Ratatouille
Remy
Emile
Gusteau
Linguini
Skinner
Anton Ego
chef
France
Paris
gourmet
restaurant
kitchen
soup
cuisine
What You Will Need
Basic printer paper
A printer
Something for your child to use to mark the words (pencil, crayon, marker, etc.)
What Else You Might Need
If you would like to print out the word search and reuse it multiple times, you could use a laminator and laminating pouches. Then your child could use a dry erase marker or wet erase marker to complete the activity.
Ways to Use This Word Search
Have your child circle or underline the words as they find them. Use a pencil, colored pencil, crayon, or marker.
If it's easier for your child, he or she can use a highlighter or pale marker to highlight the words instead.
Another option would be to have your child dot each letter in the word with a bingo dauber. They are always lots of fun for kids!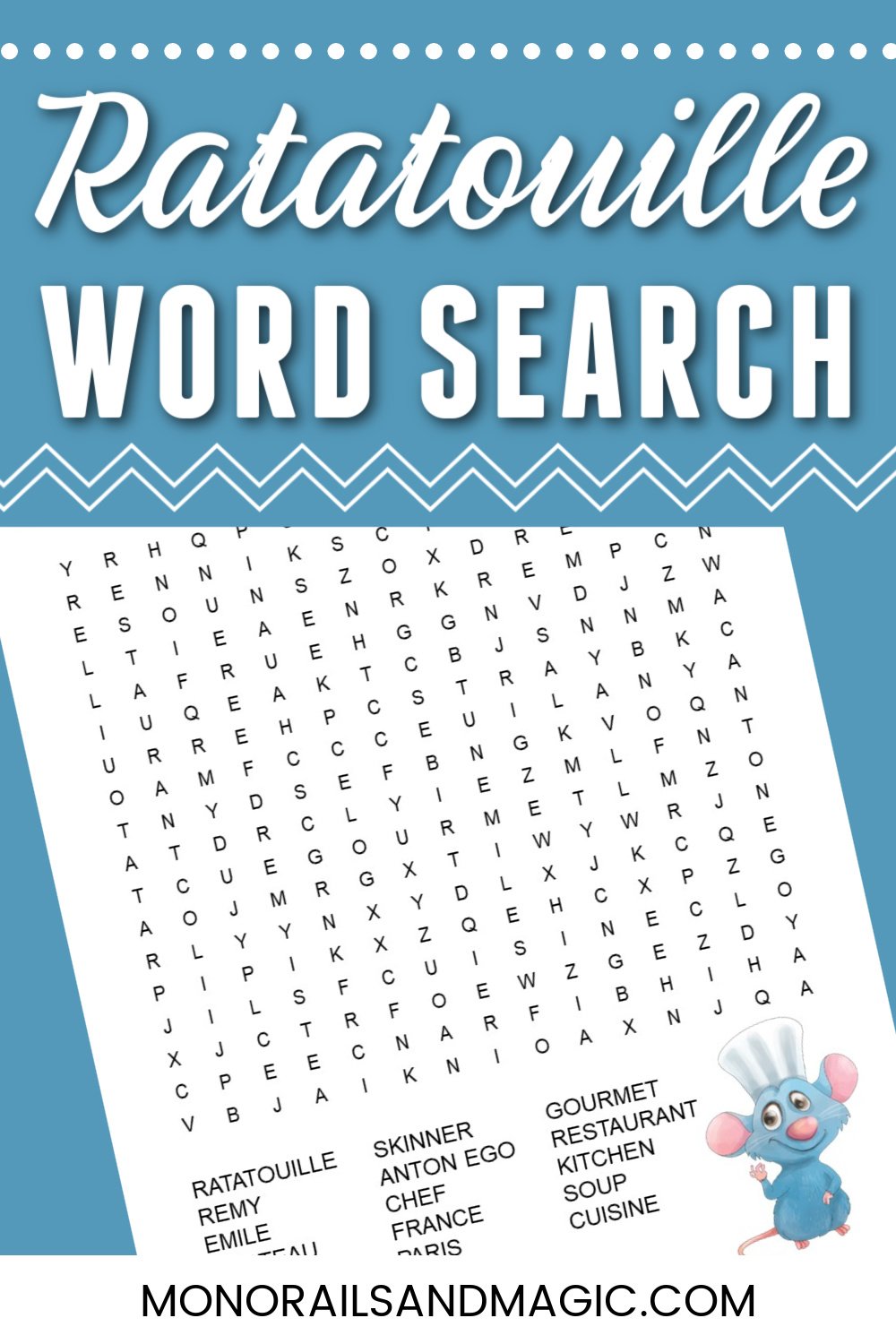 Ratatouille Learning Ideas for Kids
If your child enjoys Ratatouille, there are so many ways to make the movie educational. Books and activities are a great way for kids to learn while having fun.
Ratatouille Books for Kids
I Smell a Rat by RH Disney lets readers join Remy on a scent filled tour of Paris in this hardcover book—featuring 10 unique elements to scratch and sniff!
Ratatouille (Read-Aloud Storybook) by Katherine Emmons is a detailed storybook, filled with colorful illustrations.
Ratatouille Recipe Book: The Cookbook That Defines Remy's Passion for Food by Lauren Perry is filled with recipes inspired by the movie that adults and children can make together.
Ratatouille Activities for Kids
Practice concentration and attention to detail with this fun printable Ratatouille memory game.
Learn how to make an easy chef's hat with this craft tutorial from 10 Minutes of Quality Time.
Kindergarten Worksheets and Games has free printable France coloring pages for kids.
Head over to the kitchen with your child and make this classic ratatouille recipe from One Sweet Appetite.
More Disney Word Searches You Might Like
Monsters, Inc. Word Search Free Printable
Moana Word Search Free Printable
Toy Story Word Search Free Printable
---
To download this printable, simply click on the link below.
Please remember that, by downloading this printable, you are agreeing to abide by my Terms of Use. Thank you for visiting!