The Toy Story movie franchise has given us four amazing movies and tons of fun characters. This is the perfect recipe for colorful children's books! If you enjoy reading fun Disney books with your child, give these Toy Story books for kids a try.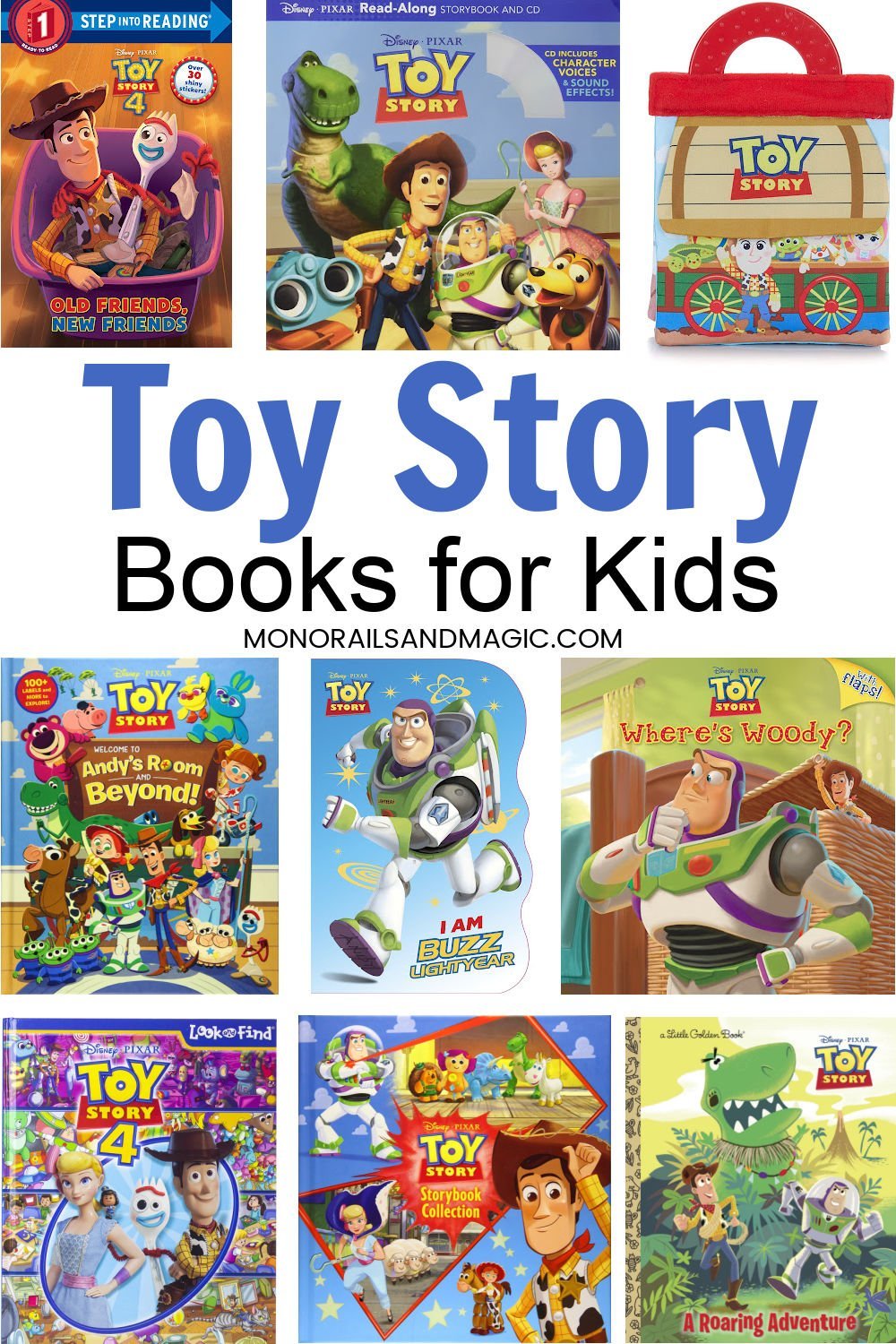 ***This post includes affiliate links. Please see my disclosure policy for more information.***
Toy Story Books for Kids
The characters from the Toy Story movies are great characters for books for kids. There are so many stories that can be told.
Toy Story Storybook Collection by Disney Books
Everyone's favorite toys can be taken home and enjoyed over and over again with this storybook collection! Young readers are in for hours of good fun with this collection featuring over 250 illustrations and 18 action-packed stories to read.
---
Toy Story: Welcome to Andy's Room and Beyond by Disney Book Group
In this fun-filled picture book, featuring hundreds of objects and labels scattered throughout multiple playtime locations, little readers can expand their vocabulary with some of their favorite Pixar pals.
---
Where's Woody? by Kristen L. Depken
Buzz Lightyear, Sheriff Woody, and all the toys from Disney/Pixar Toy Story, Toy Story 2, and Toy Story 3 star in this full-color pictureback storybook that features a flap to lift on every page.
---
Toy Story (Little Golden Book) by R. H. Disney
Young children can enjoy the retelling of the first Toy Story movie with this classic Little Golden Book.
---
A Roaring Adventure (Little Golden Book) by Kristen L. Depken
Buzz Lightyear, Sheriff Woody, and Rex from Disney/Pixar Toy Story set off on an all-new adventure in this original Little Golden Book that is perfect for children ages 2-5.
---
---
Are You Looking for More Toy Story Fun?
There is a lot more Toy Story themed fun to be had. Check out what else you can find on our website!
Toy Story Word Search Free Printable
Toy Story Memory Game Free Printable
---
---
I Am Buzz Lightyear by Mary Tillworth
Now even the youngest fans of Disney/Pixar Toy Story can blast off to infinity and beyond with this sturdy board book shaped like Buzz Lightyear!
---
Toy Story Read Along Storybook and CD by Disney Books
Join Woody and Buzz Lightyear for their first adventure in this read-along storybook and CD based on Disney and Pixar's beloved film Toy Story!
---
Disney/Pixar Toy Story 4 Look and Find by Editors of Phoenix International Publications
Children can look in eight different colorful scenes to find their favorite movie characters. A fun way to help children develop searching, matching, and reading skills, while keeping them engaged as they explore the wonderful world of Toy Story!
---
Disney Toy Story 4 My Busy Books by Phidal Publishing Inc.
A book and toy all in one, this My Busy Books activity kit comes complete with a brightly illustrated book, well-crafted figurines, and a giant durable playmat.