Pinocchio Family Movie Night
As we continue along on our journey through the Disney animated movies, we now come to Pinocchio. This classic features some of the most memorable characters and songs ever made. These fun ideas for a Pinocchio family movie night will help you as you introduce (or reintroduce) this movie to your child.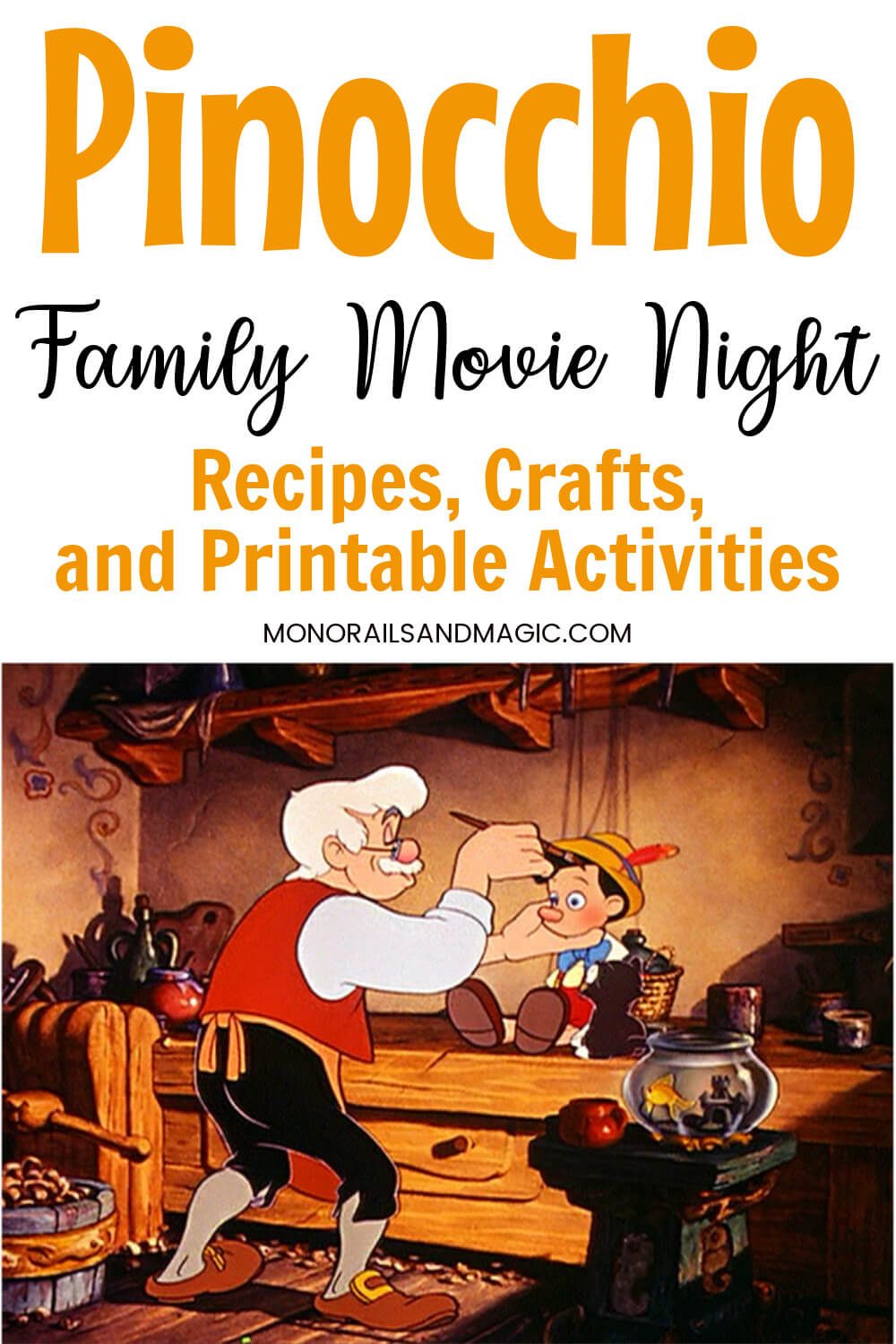 ***This post includes affiliate links. Please see my disclosure policy for more information.***
Pinocchio Family Movie Night
If you are planning a family movie night, you can do so much more than just watch. But before you start, here is some information about the movie to help you out.
General Movie Info
How to Watch Disney's Pinocchio
Disney's Pinocchio is currently still available for purchase in DVD and Blu-Ray format, as well as on Google Play, Prime Video, iTunes, YouTube paid movies, and Vudu.
The classic is currently included as part of Disney+.
What Parents Need to Know
If it has been a while since you watched Pinocchio, you may not remember that there are a few scenes that young or sensitive children may find scary. For example:
Several characters are shown smoking and/or drinking alcohol
Pinocchio is kidnapped and threatened
Children are shown being destructive
Pinocchio nearly drowns
The word "jackass" is used a few times, but in reference to an actual donkey
Pinocchio Movie Night Resources
If your family is getting together to watch this classic Disney animated movie, these easy recipes, crafts, and printable activities can make it an even more special evening. Be sure to check out our list of Pinocchio books for kids!
Pinocchio Inspired Recipes
DIY Pinocchio Cookies from Handmade Charlotte
Pinocchio Inspired Cupcakes from One Momma Saving Money
Pinocchio Inspired Crafts
Pinocchio Party Craft from My Crazy Good Life
Easy Origami Whale from Red Ted Art
Pinocchio Inspired Printable Activities
Printable Blue Fairy Paper Doll from SKGaleana
Pinocchio Word Search Free Printable