Star Wars Word Search (Episodes 7-9)
When the Star Wars saga returned with all new movies and characters in 2015, a whole new generation finally got to experience a Star Wars movie on the big screen. Episodes 7-9 excited younger Star Wars fans and gave older fans a little closure…maybe.
If you have a young fan who enjoys a fun Disney printable and wants to revisit the characters and places of episodes 7-9, grab a copy of this free Star Wars word search.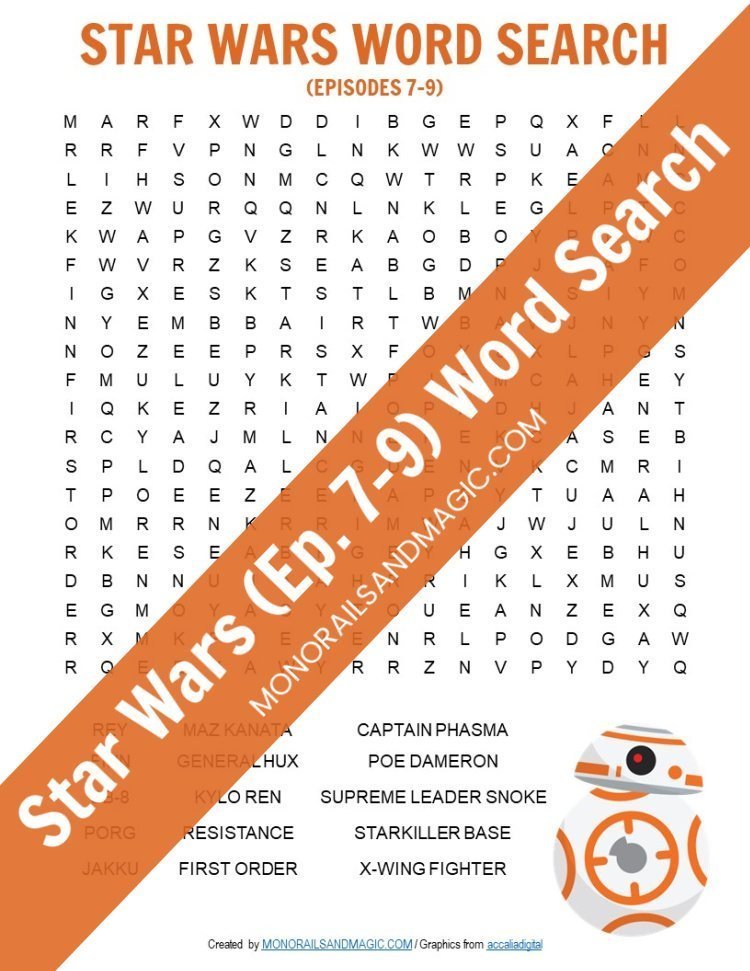 ***This post includes affiliate links. Please see my disclosure policy for more information.***
Star Wars Word Search
This Star Wars word search contains 15 words all related to movie Episodes 7-9. The words can be found horizontally, vertically, and diagonally, plus they can be forwards or backwards.
There are so many characters, locations, and themes that are found throughout all of the Star Wars movies. For this word search, I tried to focus on what could be considered the most important for Episodes 7-9. The following words are included:
Rey
Finn
BB-8
Porg
Jakku
Maz Kanata
General Hux
Kylo Ren
Resistance
First Order
Captain Phasma
Poe Dameron
Supreme Leader Snoke
Starkiller Base
X-Wing Fighter
What You Will Need
Basic printer paper
A printer
Something for your child to use to mark the words (pencil, crayon, marker, etc.)
What Else You Might Need
If you would like to print out the word search and reuse it multiple times, you could use a laminator and laminating pouches. Then your child could use a dry erase marker or wet erase marker to complete the activity.
Ways to Use This Star Wars Word Search
Have your child circle or underline the words as they find them. Use a pencil, colored pencil, crayon, or marker.
If it's easier for your child, he or she can use a highlighter or pale marker to highlight the words instead.
Another option would be to have your child dot each letter in the word with a bingo dauber. They are always lots of fun for kids!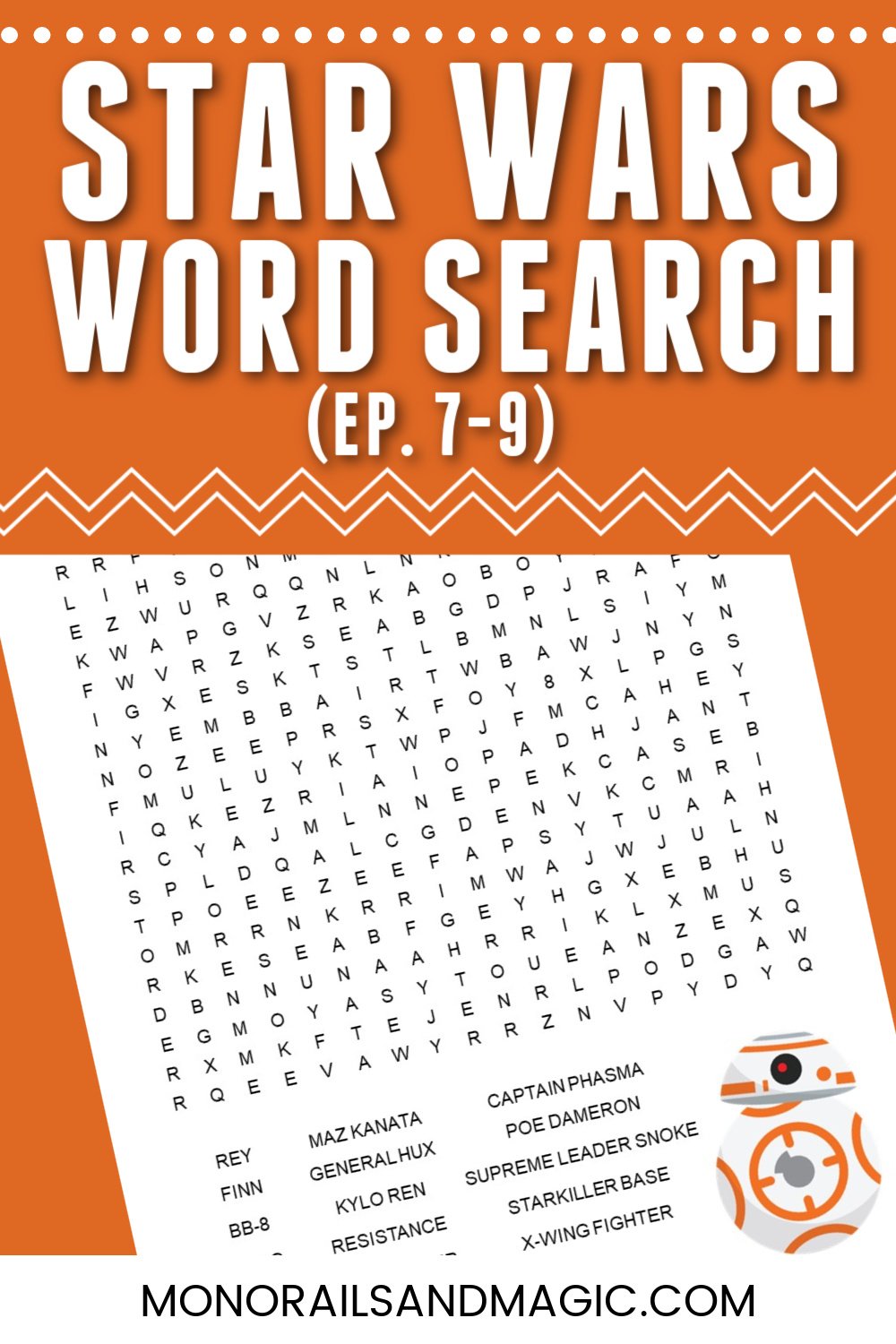 Star Wars Learning Ideas for Kids
If your child likes Star Wars, there are so many ways to make the movies educational. Books and activities are a great way for kids to learn while having fun.
Star Wars Books for Kids
In I Am a Hero by Golden Books, children can get to know all of their favorite heroes from the entire Star Wars Saga.
Jeffrey Brown shows us what it would have been like if Rey hadn't grown up all alone on dusty planet Jakku, but instead had a galaxy of friends to play with in Rey and Pals.
Relive the adventures from The Last Jedi in the Golden Book Star Wars: The Last Jedi by Elizabeth Schaeffer.
Star Wars Activities for Kids
***These activities are related to all of the Star Wars movies, not just Episodes 7-9.***
Bright Color Mom shows us how to make pool noodle lightsabers with easy to find materials.
See if you can find all of the hidden words in this Star Wars word search for episodes 4-6.
Has your child been working on multiplication facts? Then this printable Star Wars multiplication maze activity from Royal Baloo would be perfect.
See if you can find all of the hidden words in this Star Wars word search for episodes 1-3.
Make a BB-8 paper plate craft with a free printable from Attachment Mummy.
This Baby Yoda memory game is a fun way to practice concentration and attention to detail.
---
To download this printable, simply click on the link below.
Star Wars Word Search (Episodes 7-9)
Please remember that by downloading this printable, you are agreeing to abide by my Terms of Use. Thank you for visiting!